Treading Boldly from the Start
Since their company's founding, Mike and Geoff Howe have worked tirelessly to create newer, better and stronger vehicles. They are inventors, military contractors, actors, and entrepreneurial businessmen who are also driven to give back to their community. They take pride in every project. They are fueled by a shared passion and a united vision. Those principles define Howe & Howe's history and enable the team to keep creating innovative solutions for clients worldwide.
1980
1980
1980 - The Early Days
Geoff and Michael Howe were disruptive from day one. A pair of fearless six year-old twins growing up in Maine, they pushed the envelope at an early age, conducting experiments, disassembling appliances — even attempting controlled explosions in the stove.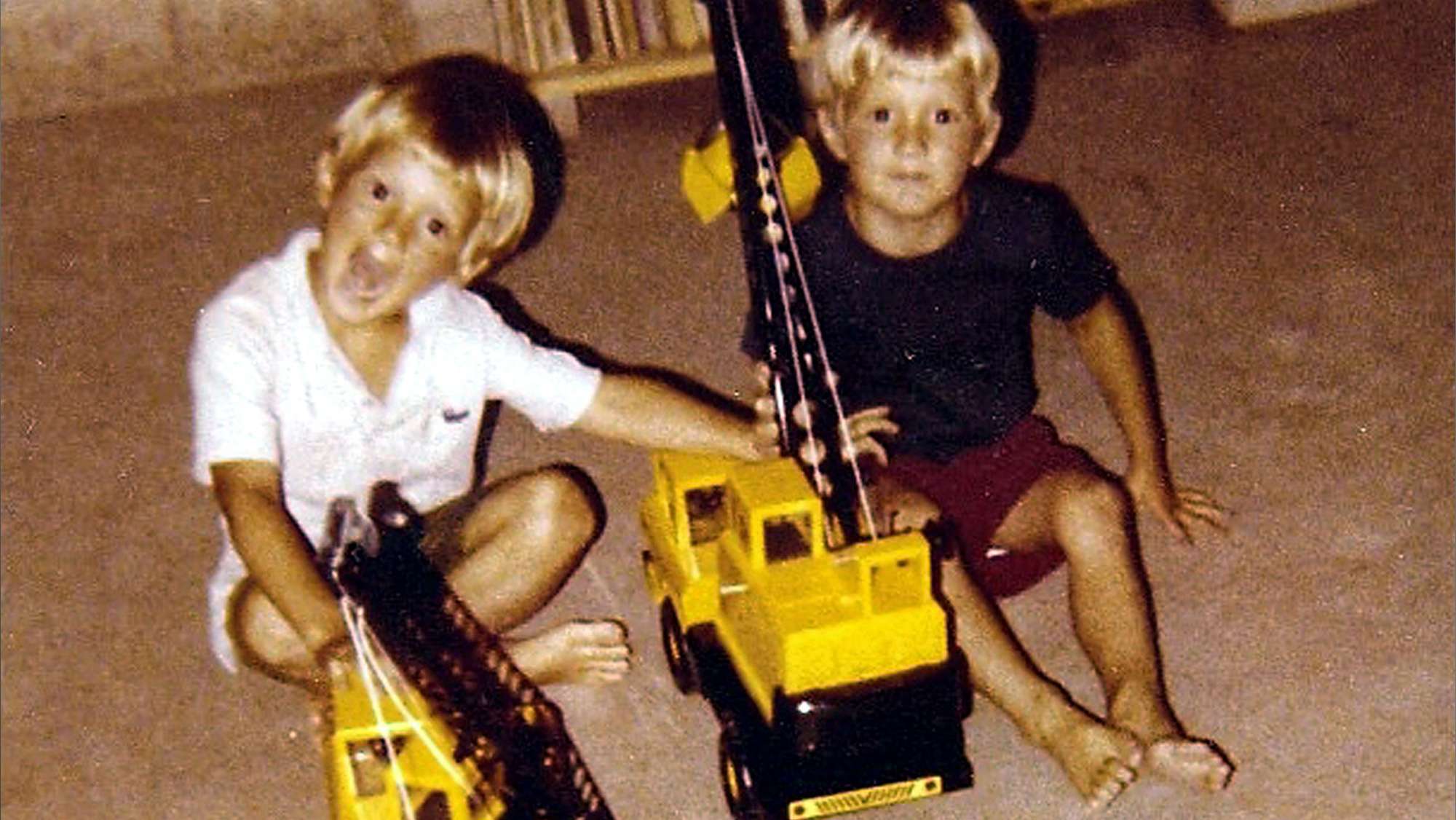 1982
1982
Then at the age of eight, the Howes built a one-room cabin using power tools their mother purchased for them for their birthday.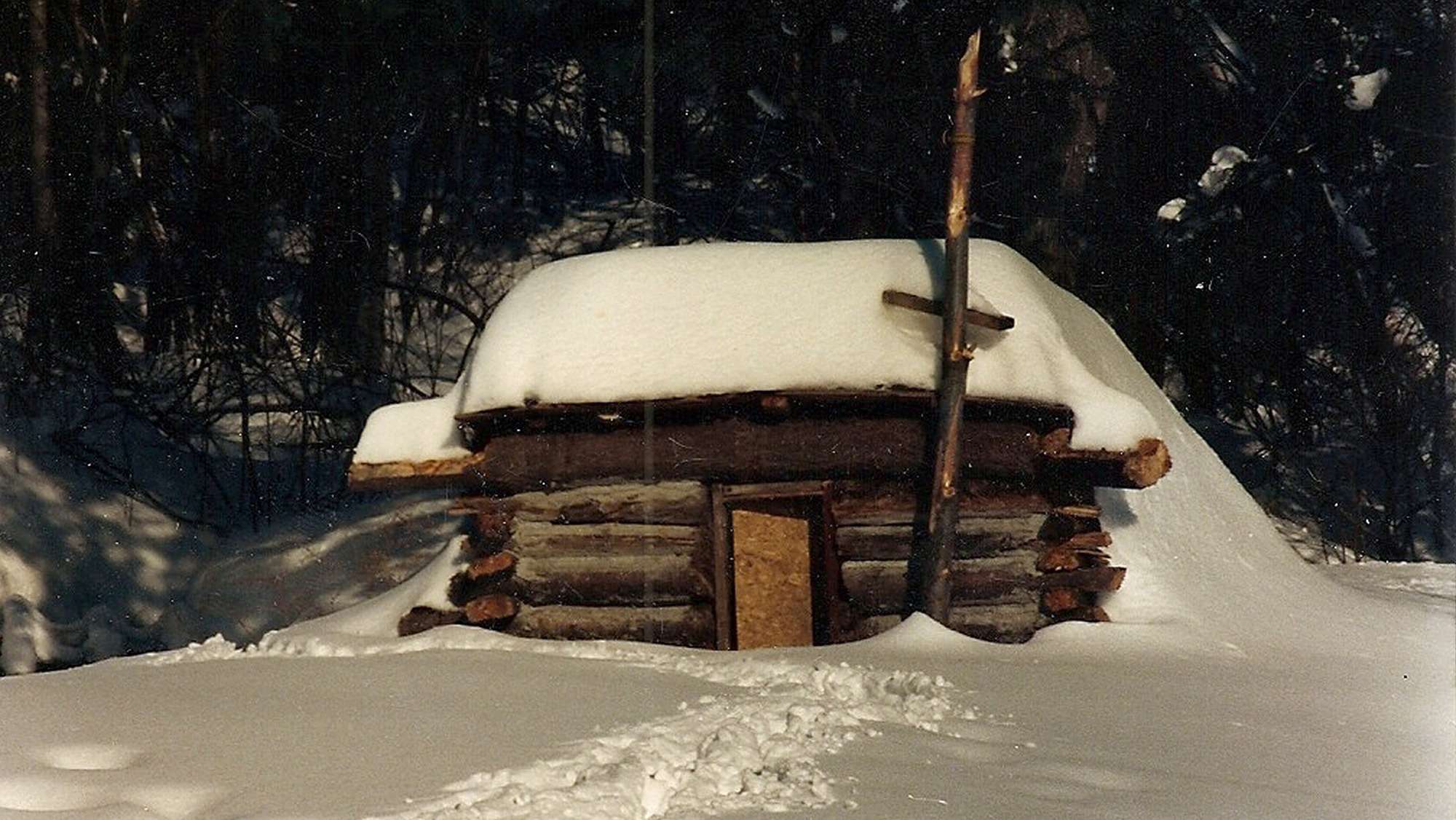 1990
1990
Before they have their driver's licenses, Geoff and Mike begin tinkering with vehicles. At the age of 16 they purchase their first automobile - a 1974 Chevrolet Nova Super Sport.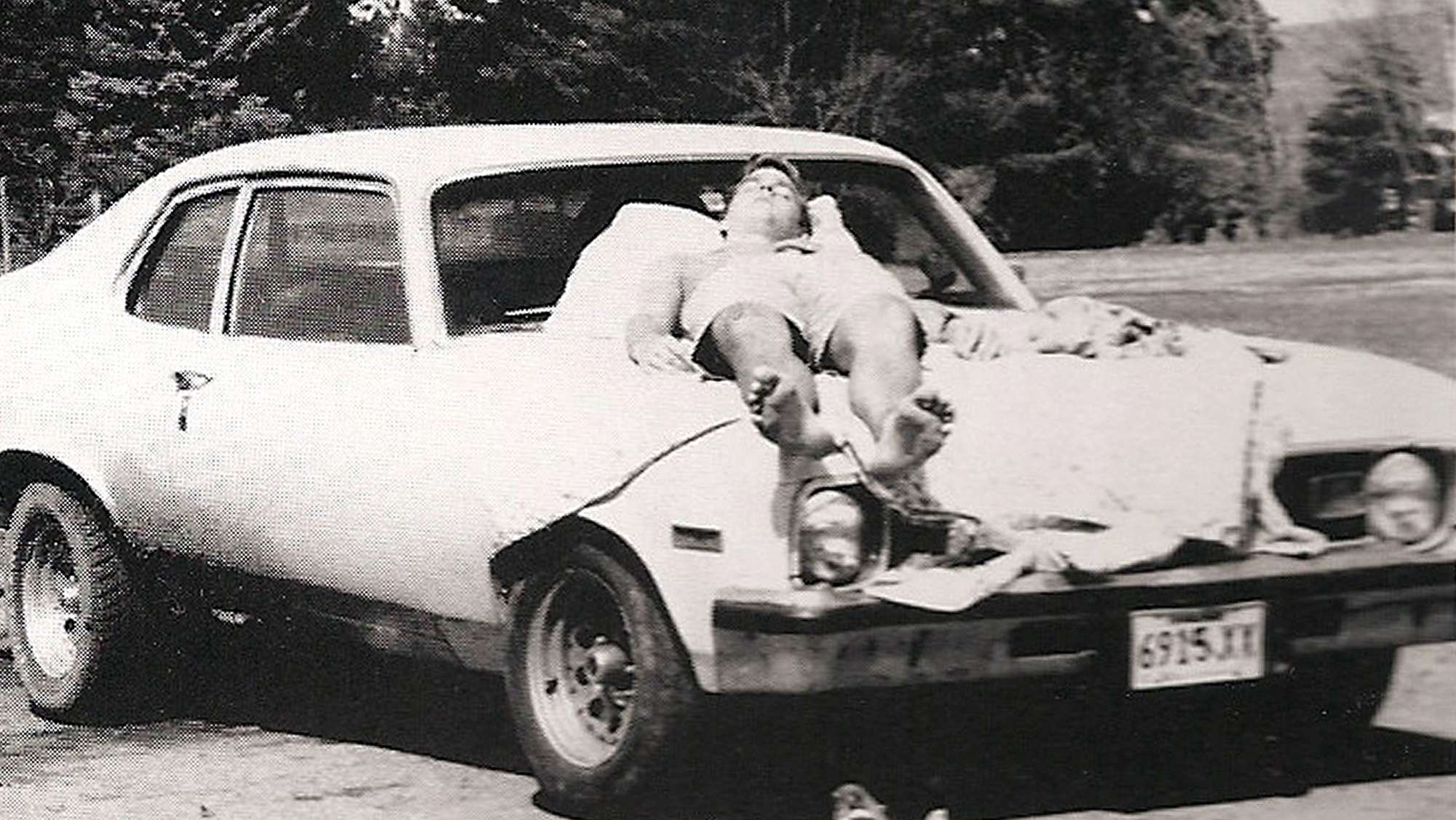 1992
1992
In 1992 they graduate from Kent's Hill School with high honors and advanced placement. They begin college and continue their education path.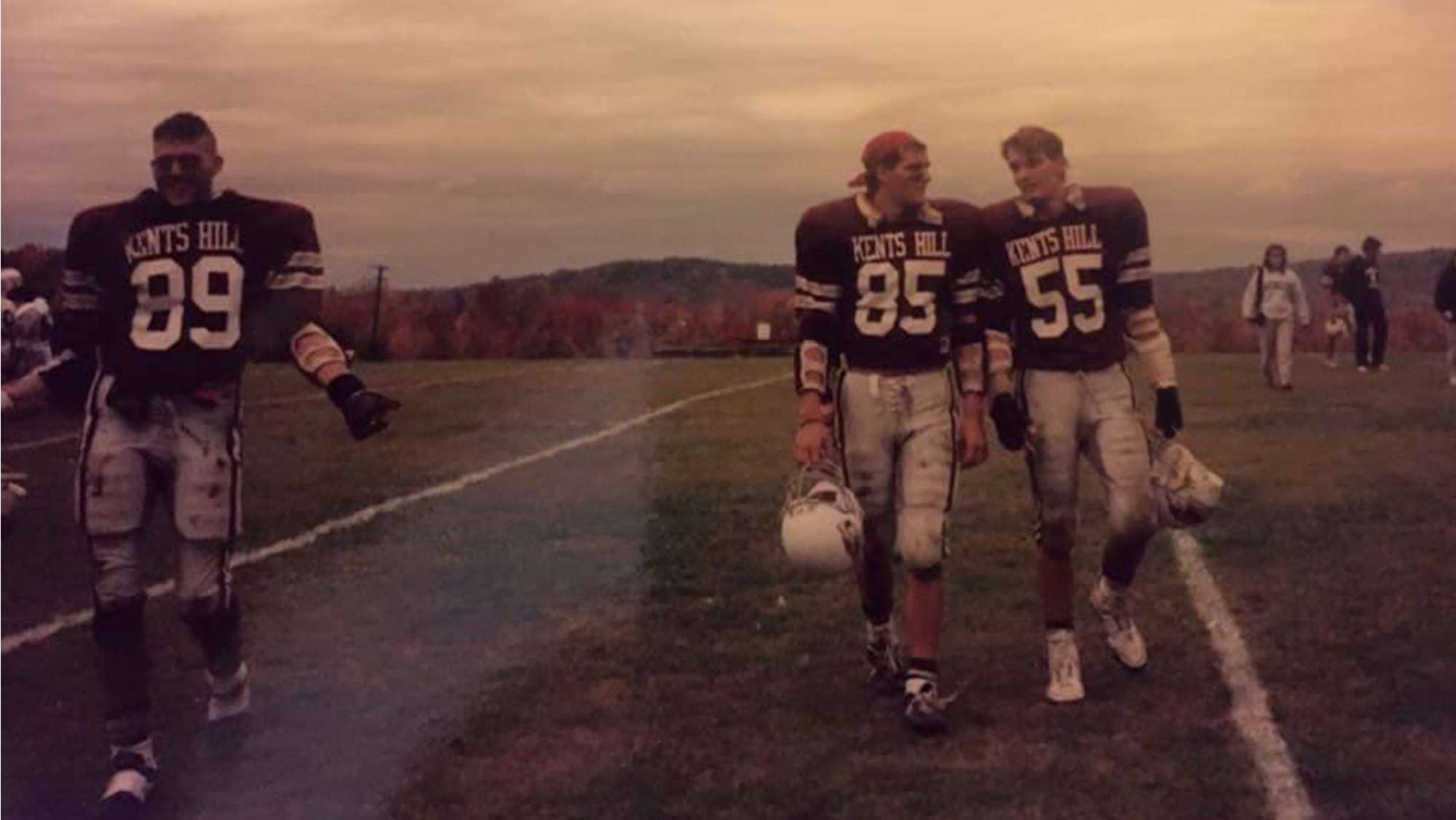 1996
1996
After graduating college in 1996, Geoff and Mike start their own rock and roll band called "Two Much Trouble." They do not want to play in normal venues, so they create their own mobile stage. They take a full-sized school bus and install hydraulics to make one wall lower for a stage. As Geoff and Mike work on a commercial fishing boat and continue with their band, their interest and hobby in off-road buggies begins to grow. Their first creations are wheeled buggies - T-Rex and Godzilla - and their vision of building the world's fastest tracked vehicle begins.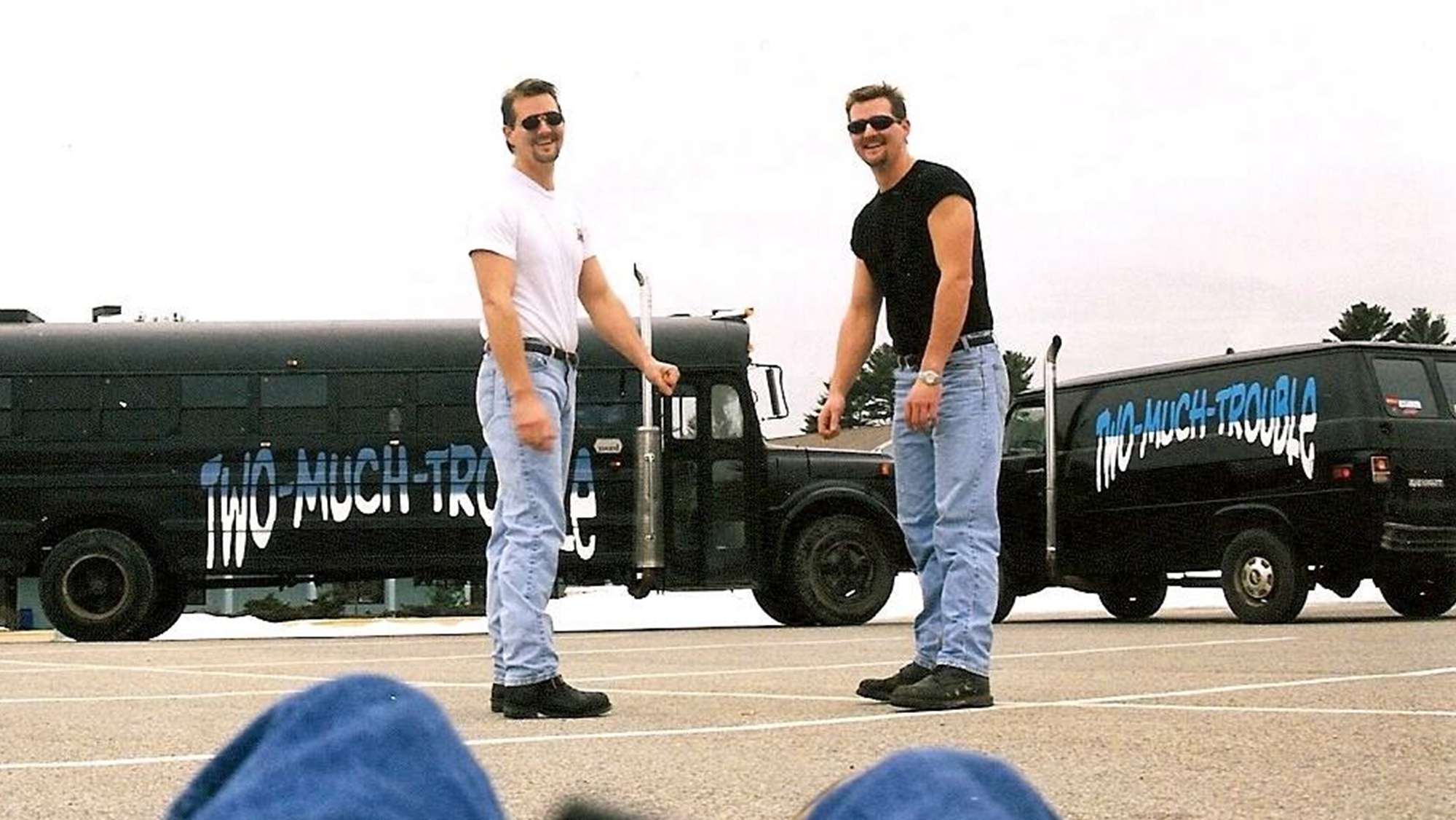 2001
2001
In 2001 RIPSAW is born and the Howes soon realize the potential of their vehicle.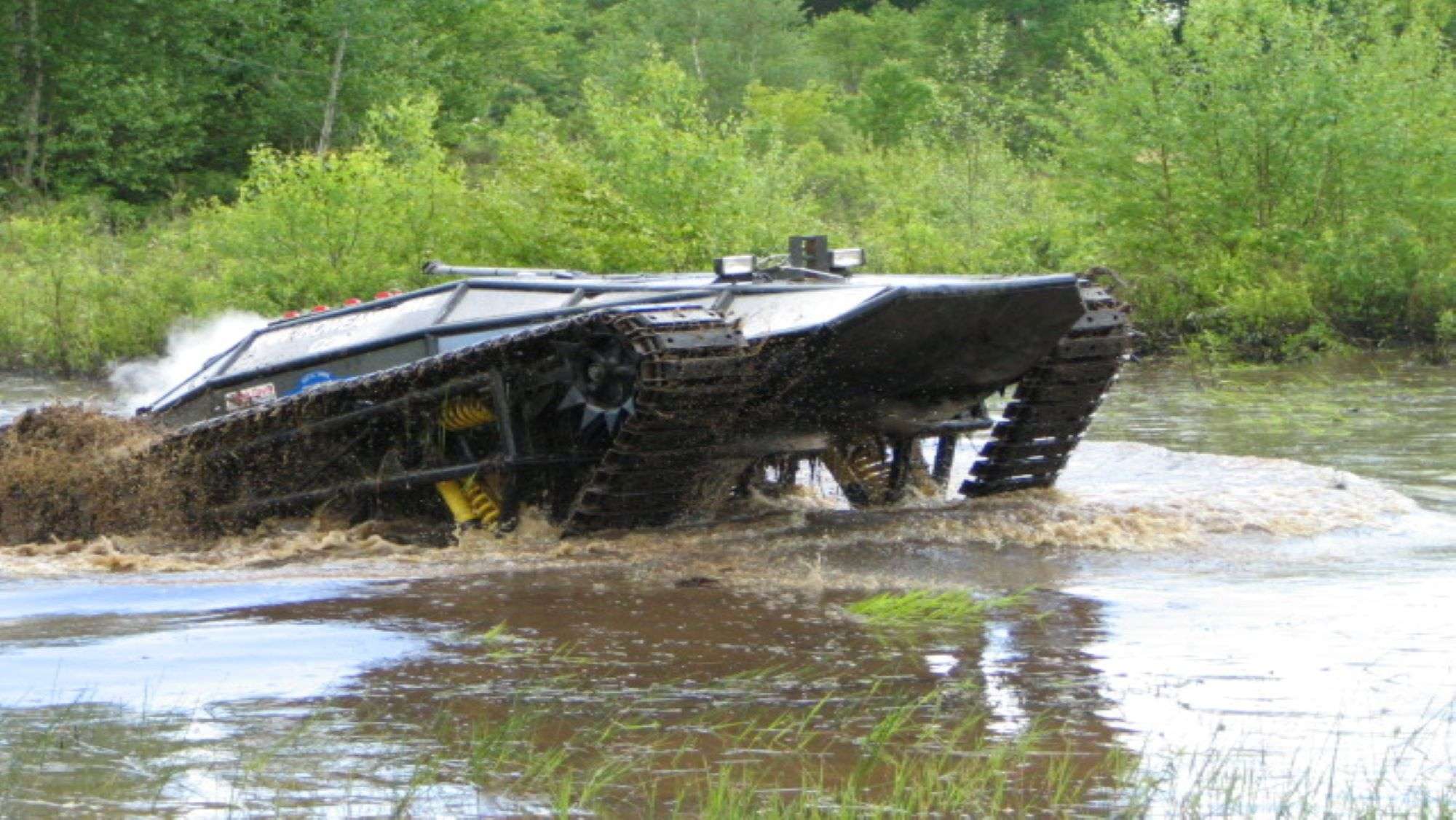 2005
2005
They enter it into the 2005 Darpa Grand Challenge and achieve semi-finalist standing. In 2006, three teams (one of which is the Howes) out of 168 are chosen to attend the Washington, D.C. Auto Show to display their technology. Ripsaw and the Command Center are the main attraction.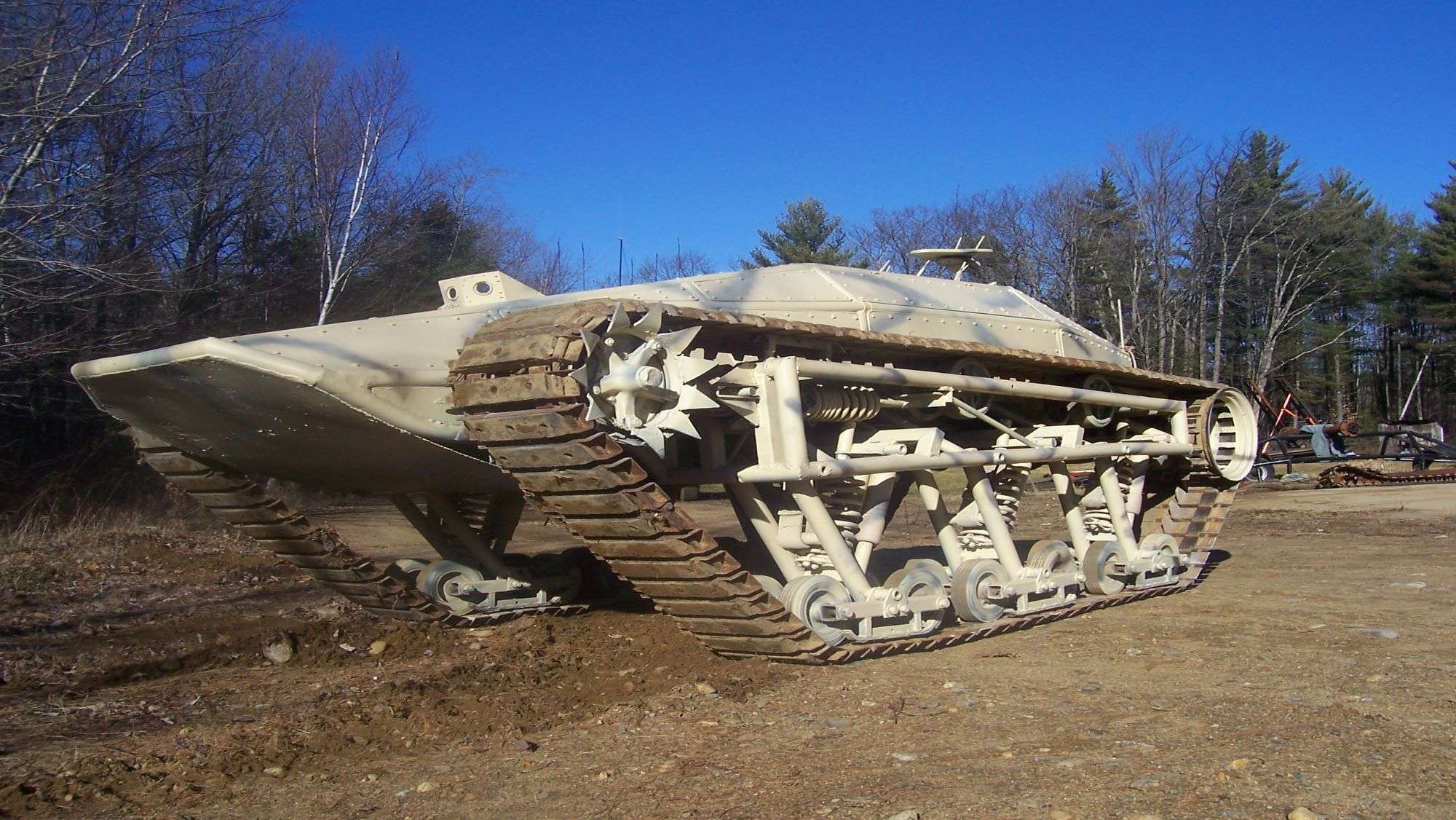 2006
2006
In 2006 Army Research Development Engineering Center (ARDEC) show interest in RIPSAW. Geoff and Mike's company, Howe & Howe Technologies, Inc. acquires a contract with the support of Senators Collins and Snowe to build Ripsaw prototypes for the United States government.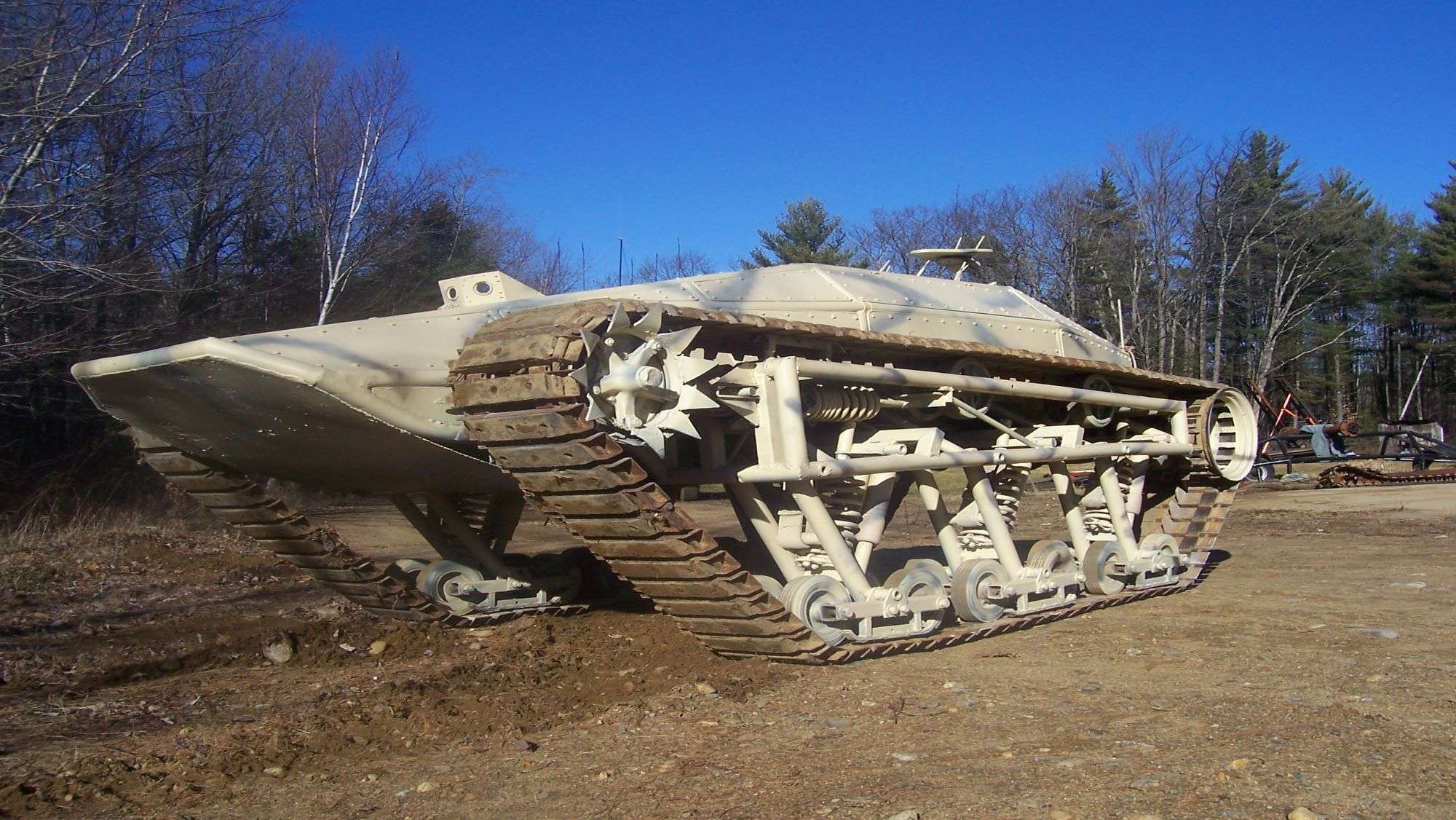 2007
2007
In 2007 Civil Protection Services (CPS), a procurement company, contacts Howe & Howe about building a vehicle that would be manned, 32 inches wide, have tracks, and be bullet proof. After a week of preliminary design work, H&H states that it can be done. Howe & Howe designs, engineers, fabricates, tests, and rolls out the door the first-of-its-kind prototype called "PAV1 The Badger."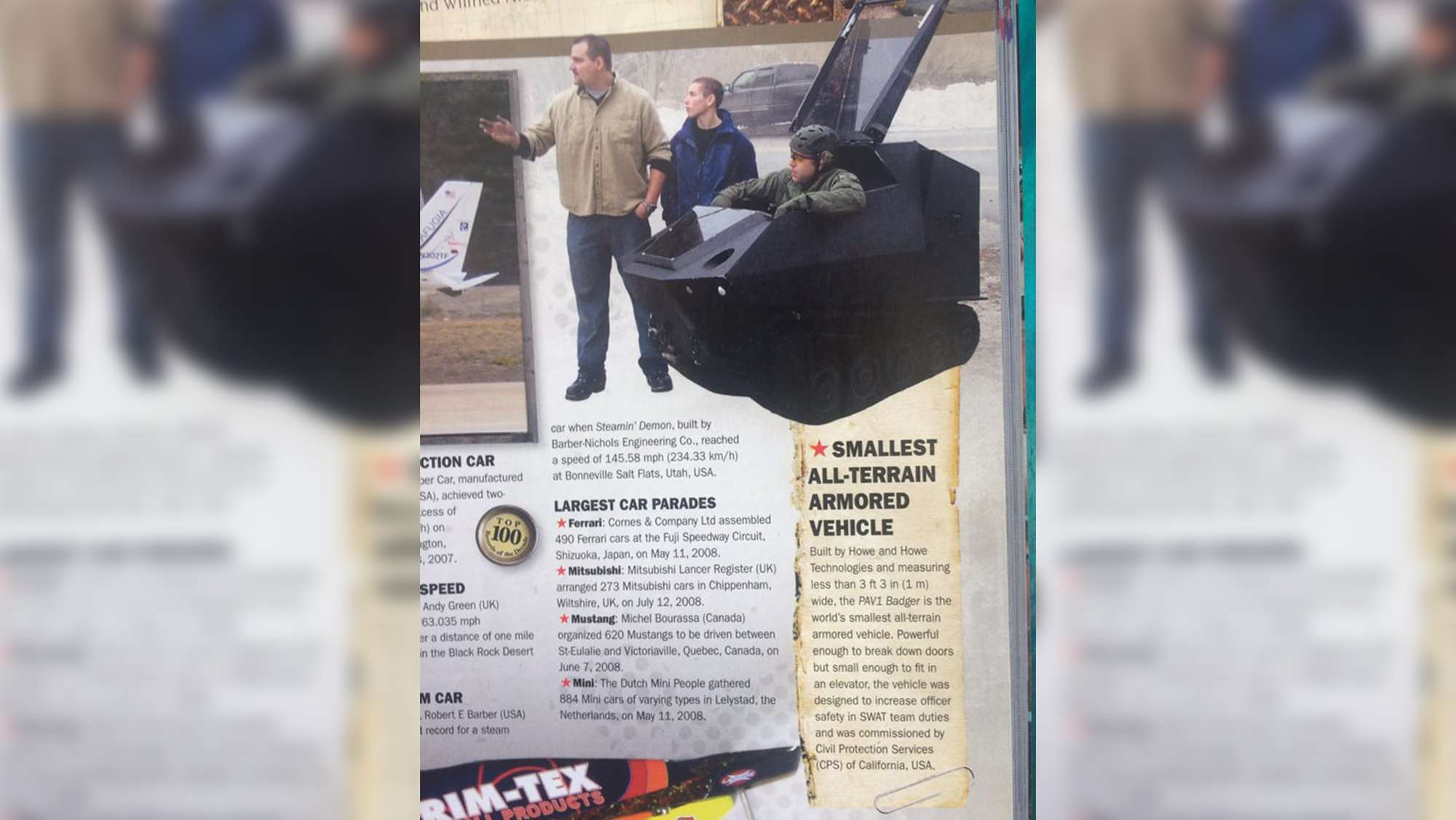 2008
2008
In 2008 the team builds RIPSAW MS1 (mil-spec), an unmanned ground vehicle built for ARDEC to weaponize. The RIPSAW program achieves success and passes characterization test at Aberdeen Testing Center in Maryland. The Military Channel produces a show called, "Backyard to Battlefield," which includes Howe & Howe preparing their Ripsaw MS1 prototype for its first ARDEC demonstration. The Howe brothers are interviewed for the first time by Dick Gordon for the radio show, "The Story."
2009
2009
In 2009 the team builds a version of the RIPSAW vehicle that is capable of both manned and unmanned operation. RIPSAW MS1 is featured in the June 2009 issue of Popular Science magazine as, "Invention of the Year." On September 9, 2009 Ripsaw MS1 and MS2 participate in "Prelude to a Dream," an open race charity event at Eldora Speedway in Ohio in support of fallen or injured soldiers and their families.
Additionally in 2009, Shoal Creek Mine of Alabama commissions Howe & Howe to complete the Subterranean Rover (SR1). SR1 is an extremely rugged, all-terrain vehicle designed to withstand the harsh environment of coal mines, while also offering a safe, comfortable ride for its users. Shoal Creek Mine is pleased with the vehicle and orders several more.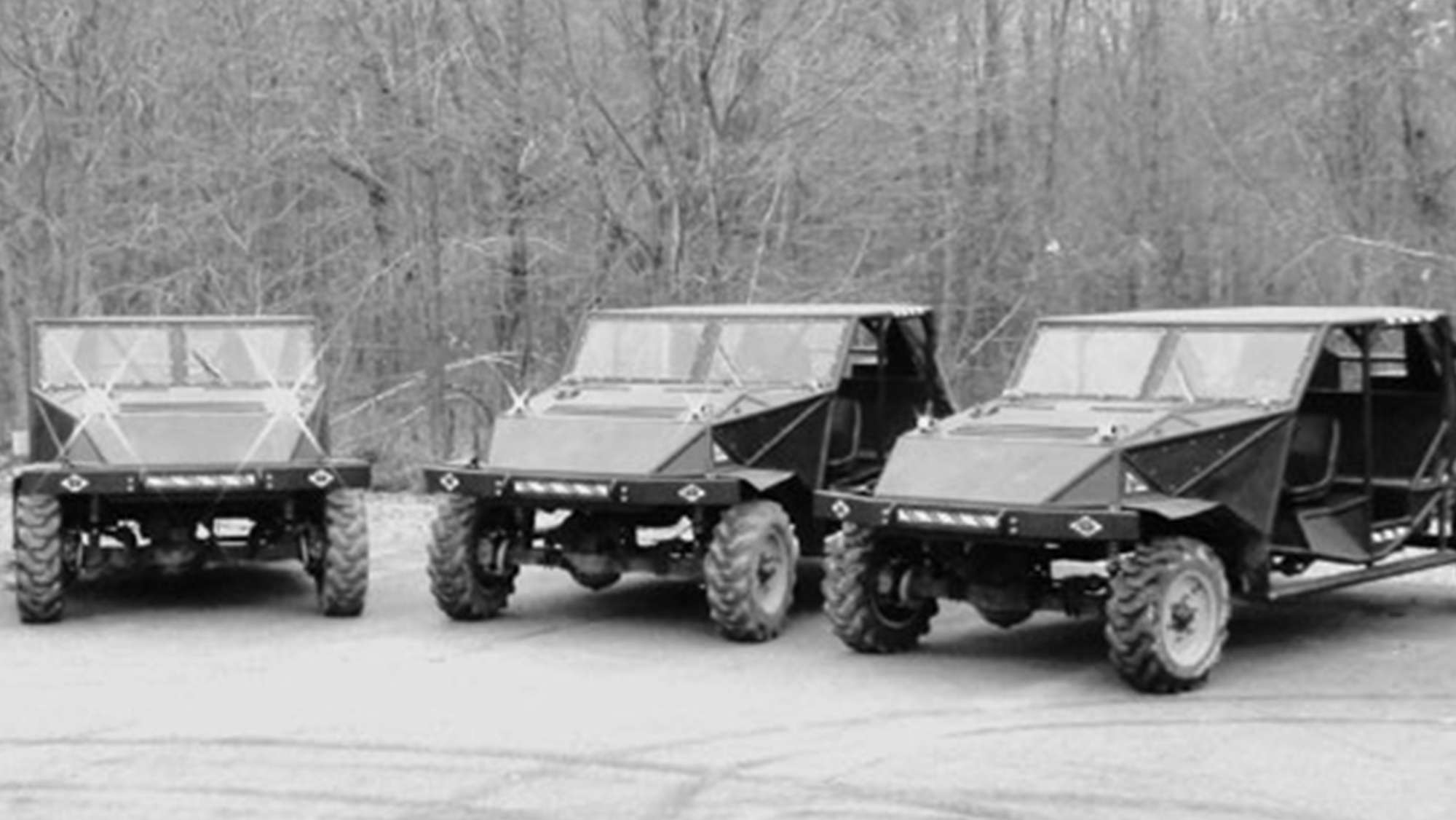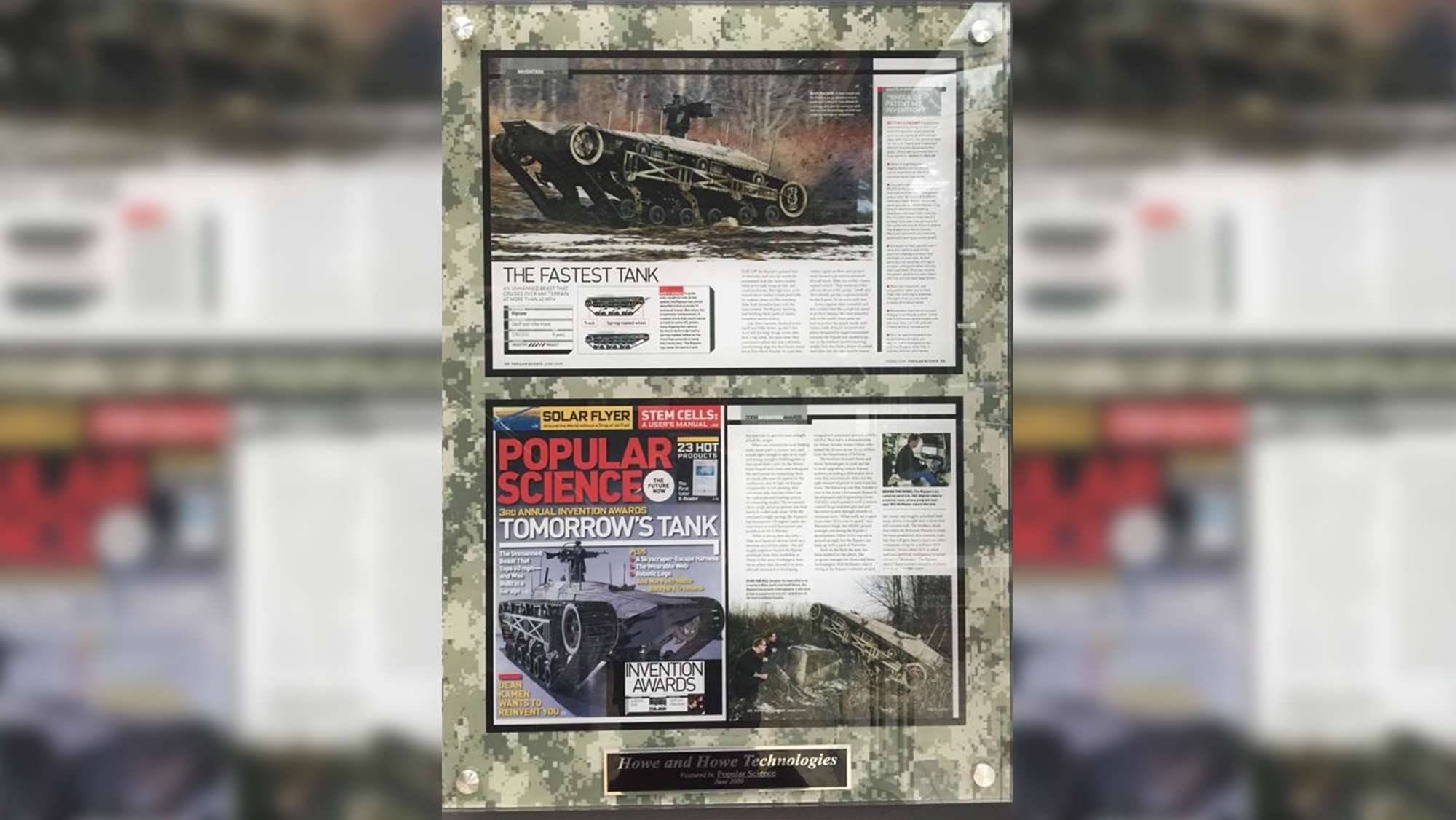 2010
2010
The Guinness Book of World Records awarded Howe & Howe for their development of the World's Smallest Armored Vehicle, the Badger. Geoff and Mike make a return appearance on the radio show, "The Story." with Dick Gordon. They also complete two seasons of their own reality TV show titled, "Black Ops Brothers: Howe and Howe Tech" by 2010. The show aired Wednesday nights at 8 p.m. EST on the Discovery Channel. This year, H&H completes three new vehicles. Thermite enters the Unmanned Ground Vehicle (UGV) market as one of the world's first Fire Fighting UGVs. The second vehicle completed in 2010 was Ripchair, an off-road wheelchair designed for those who had become disabled and unable to walk. Many of these people fought for our freedom and in turn lost much of their own. Through painstaking research Howe & Howe built the most capable off-road wheelchair the world had ever seen. H&H's third vehicle completed in 2010 is the Riptide, an amphibious version of the well-known RIPSAW.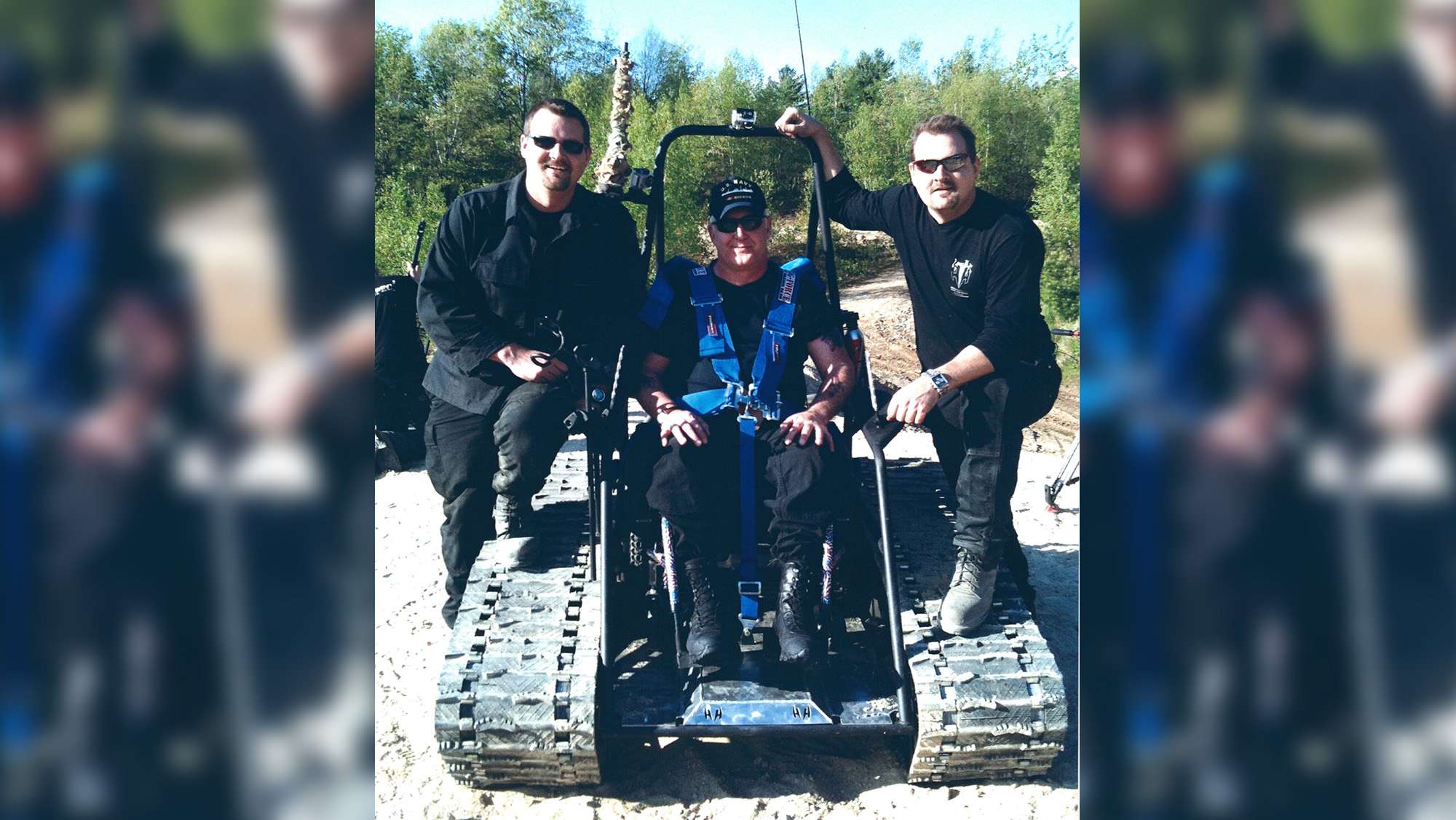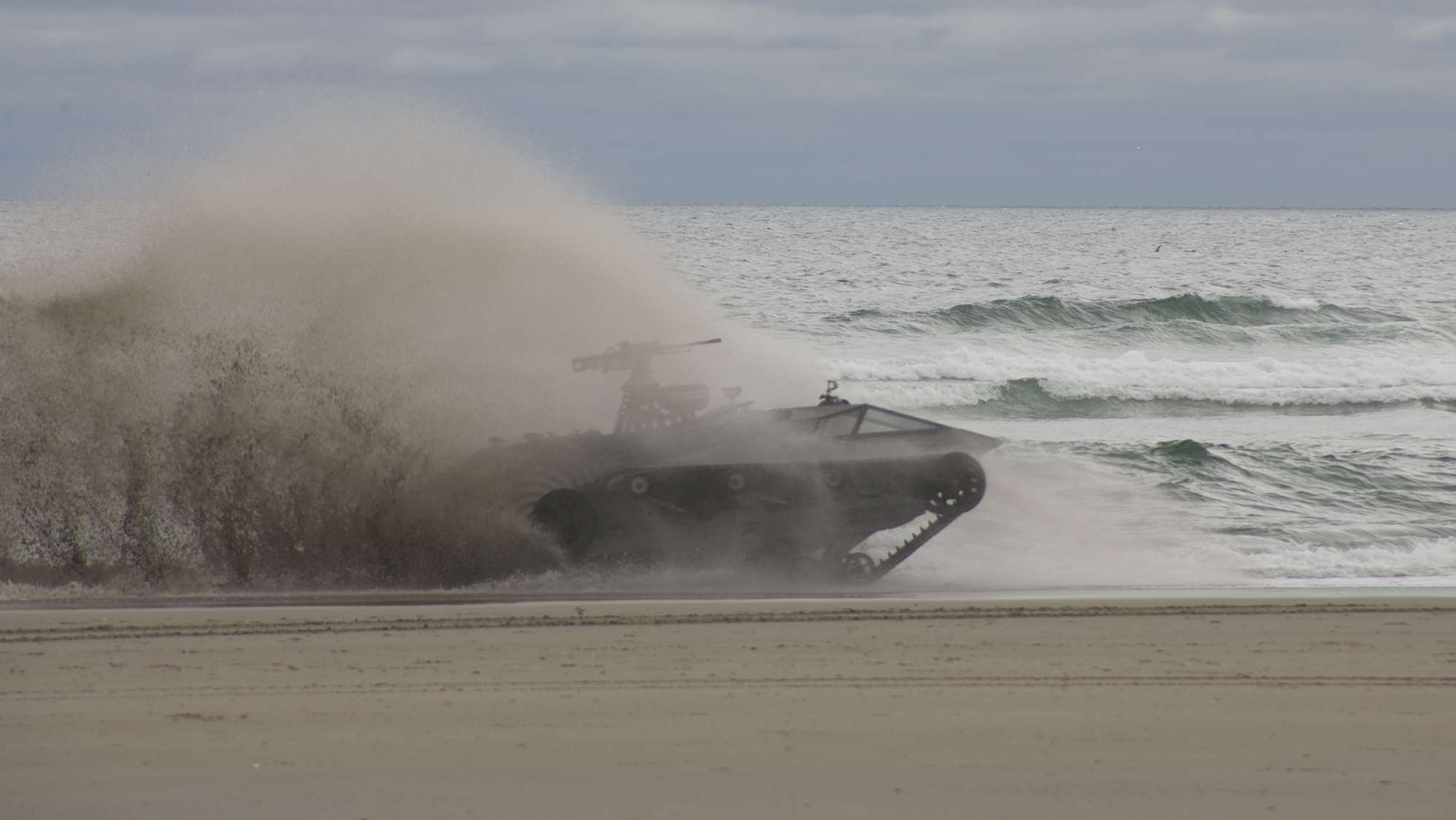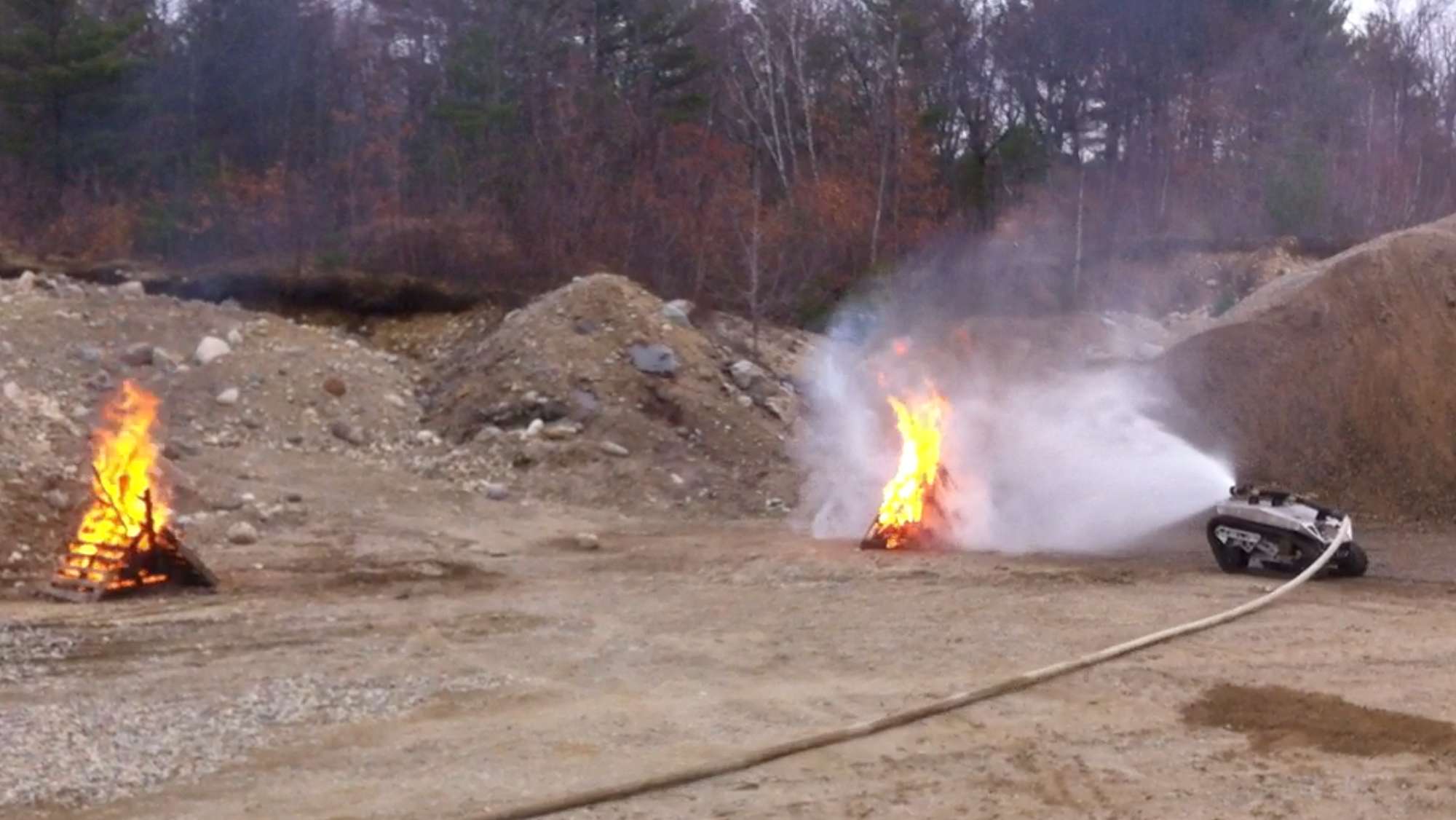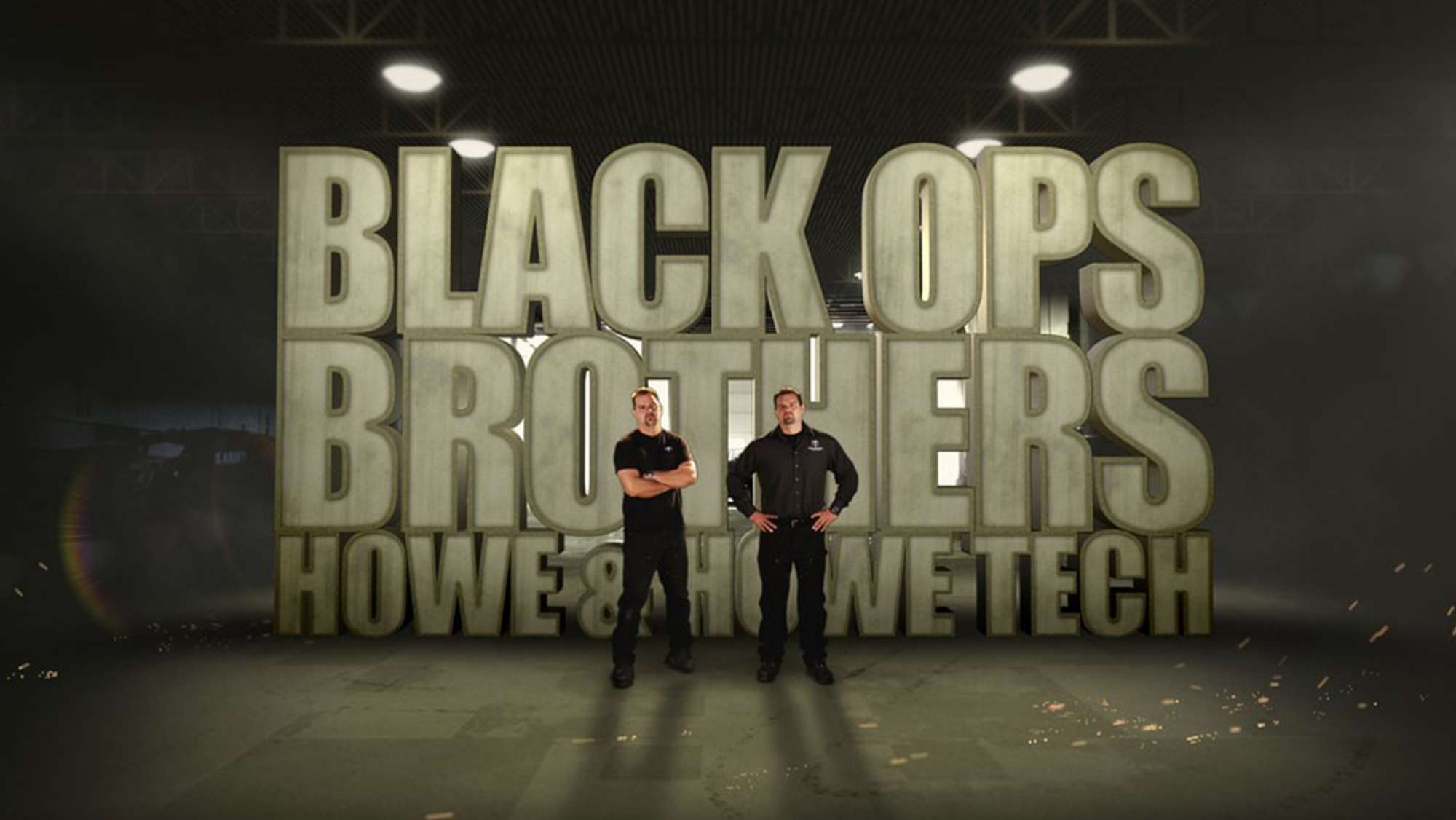 2012
2012
In 2012 Modern Marvels features Howe & Howe's PAV1 Badger is featured in an episode entitled, "Tiny Weapons." Howe & Howe establishes Outdoors Again, a non-profit dedicated to the construction of the world's first non-profit outdoor recreation park for disabled individuals and their families. The future facility will be complete with fishing, hunting, canoeing, kayaking, golfing and other activities. Geoff and Mike have a vision to provide an environment that gives paraplegics and quadriplegics the opportunity to explore and enjoy the outdoors once again. Additionally in 2012, H&H creates RS1-RBS1 Robotic Ballistic Shield, a mobile remotely-operated SWAT shield developed for the Massachusetts State Police. The creation of the "SWAT BOT" comes at a time when domestic stand-offs and public mass shootings are at an all time high, and the need to protect civilians and law enforcement personnel is paramount. RS1-RBS1 is available only to law enforcement personnel.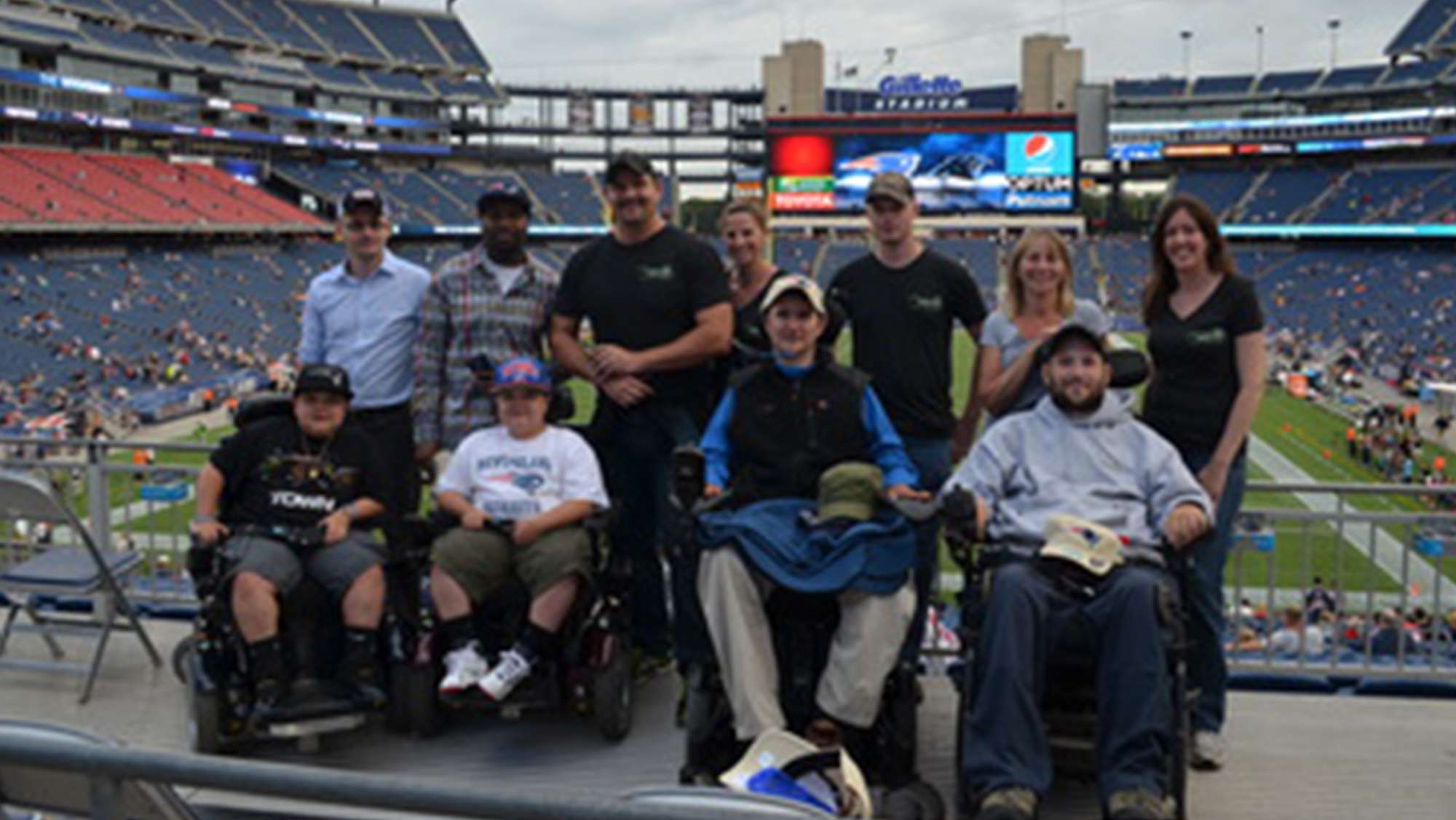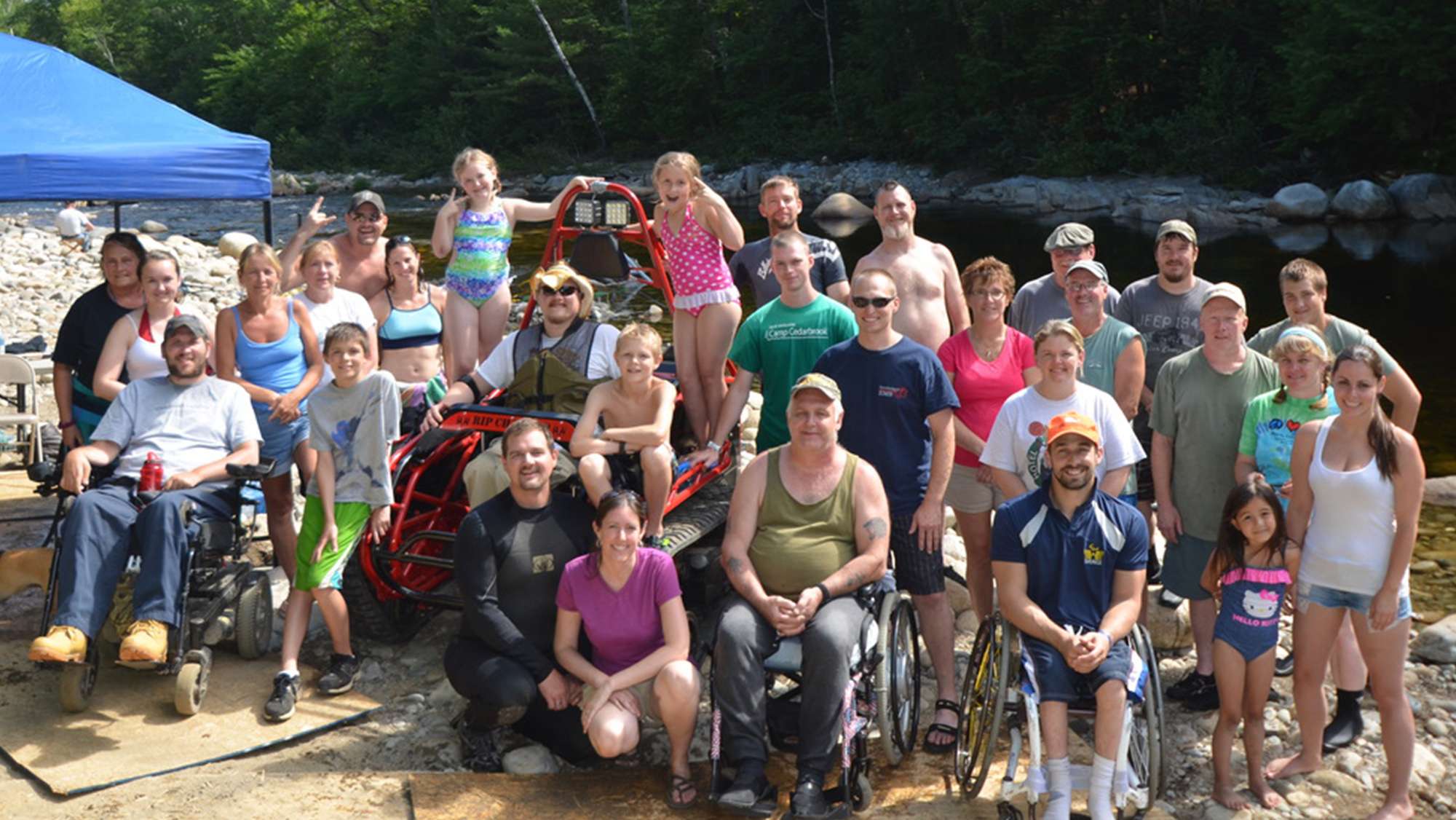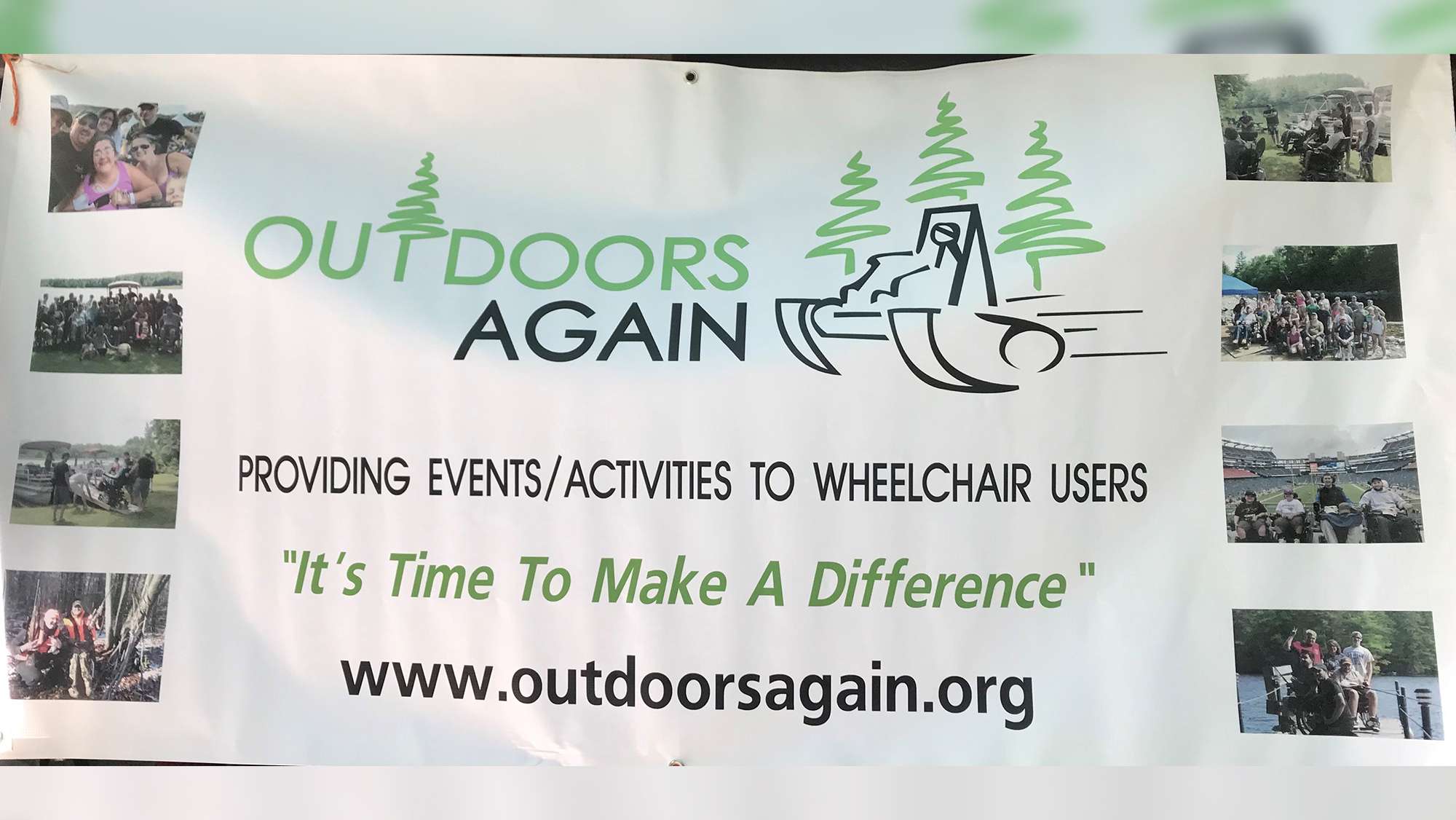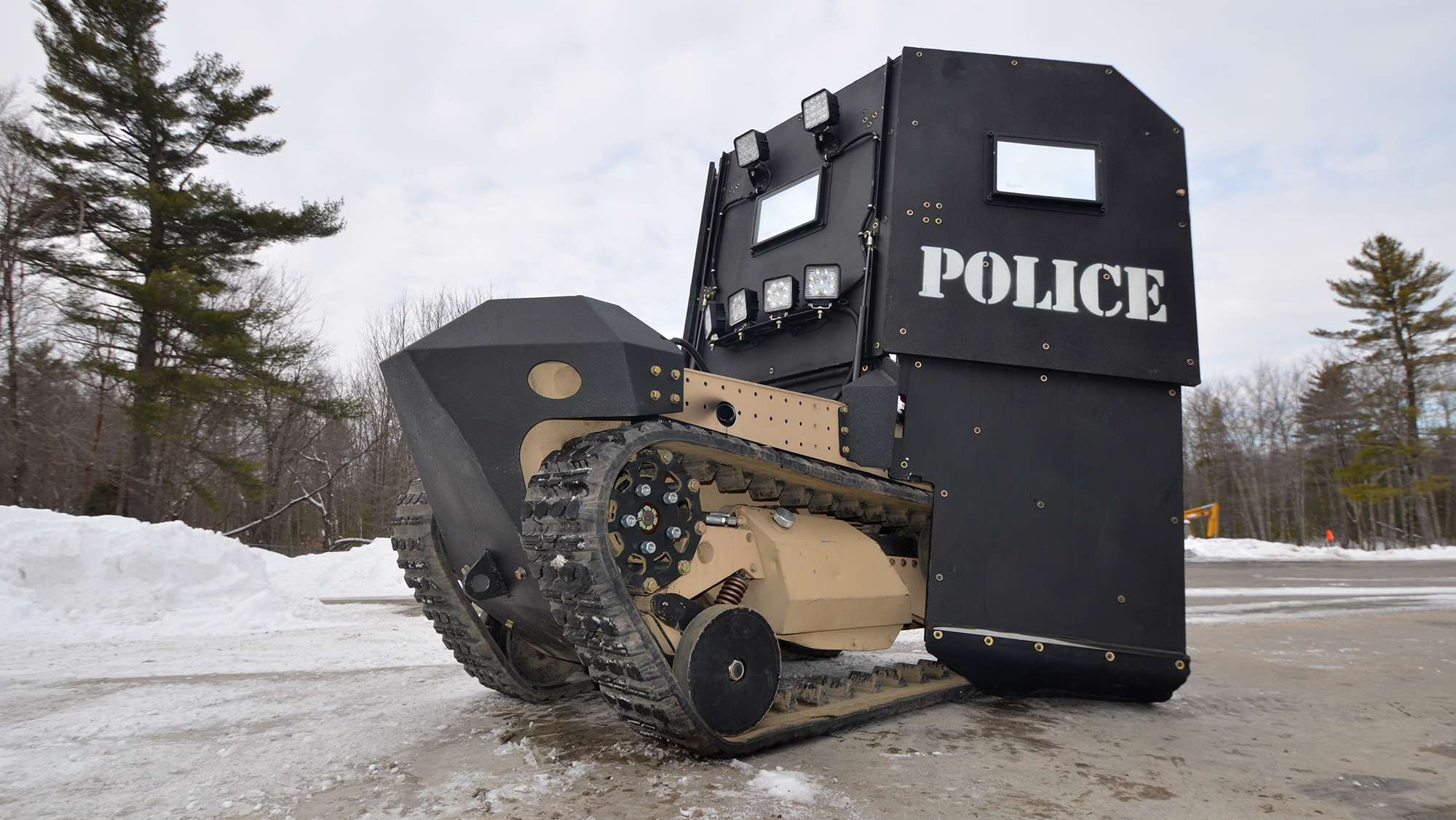 2014
2014
In 2014 H&H introduces the RIPSAW EV2 to the civilian market. EV2 is the first luxury tank that can be either driven or operated in an unmanned capacity, with a fully enclosed body and two seats in the cab. This extreme luxury tank can exceed speeds up to 60 mph, can be used on all terrains and has a range of 300 miles. It made its first of many movie appearances in "G.I. Joe: Retaliation" and became an instant Hollywood hit. In 2014 H&H also launched the Ripchair 3.0, the first rugged, all-terrain, off-road tracked wheelchair that allowed an existing wheelchair to back up and lock into it. Each chair was completely customized with options to meet the needs of its recipient.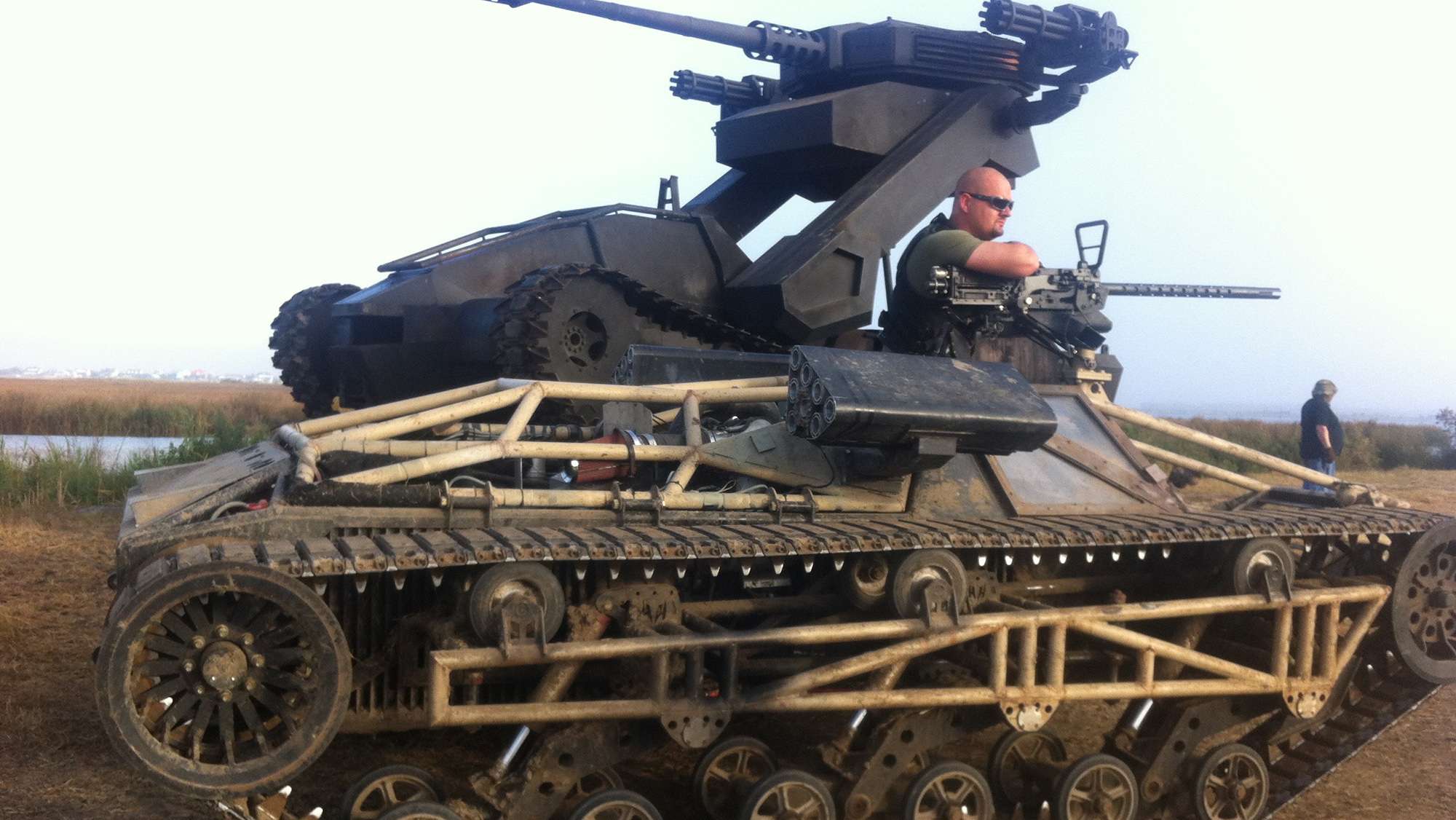 2015
2015
In 2015 Ripsaw EV1 Peacemaker debuts in "Mad Max: Fury Road." Ripsaw EV1 is a fast track vehicle capable of driving in rough terrain and extreme weather conditions. It gains the nickname "RIPSAW on Steroids" because of its power, speed and ability to race in speeds of up to 70 mph across the desert. In 2015 H&H completes the commercial development of Big Dog Extreme 4x4 fire truck and the Thermite RS2-T1 and RS1-T3 fire fighting robots.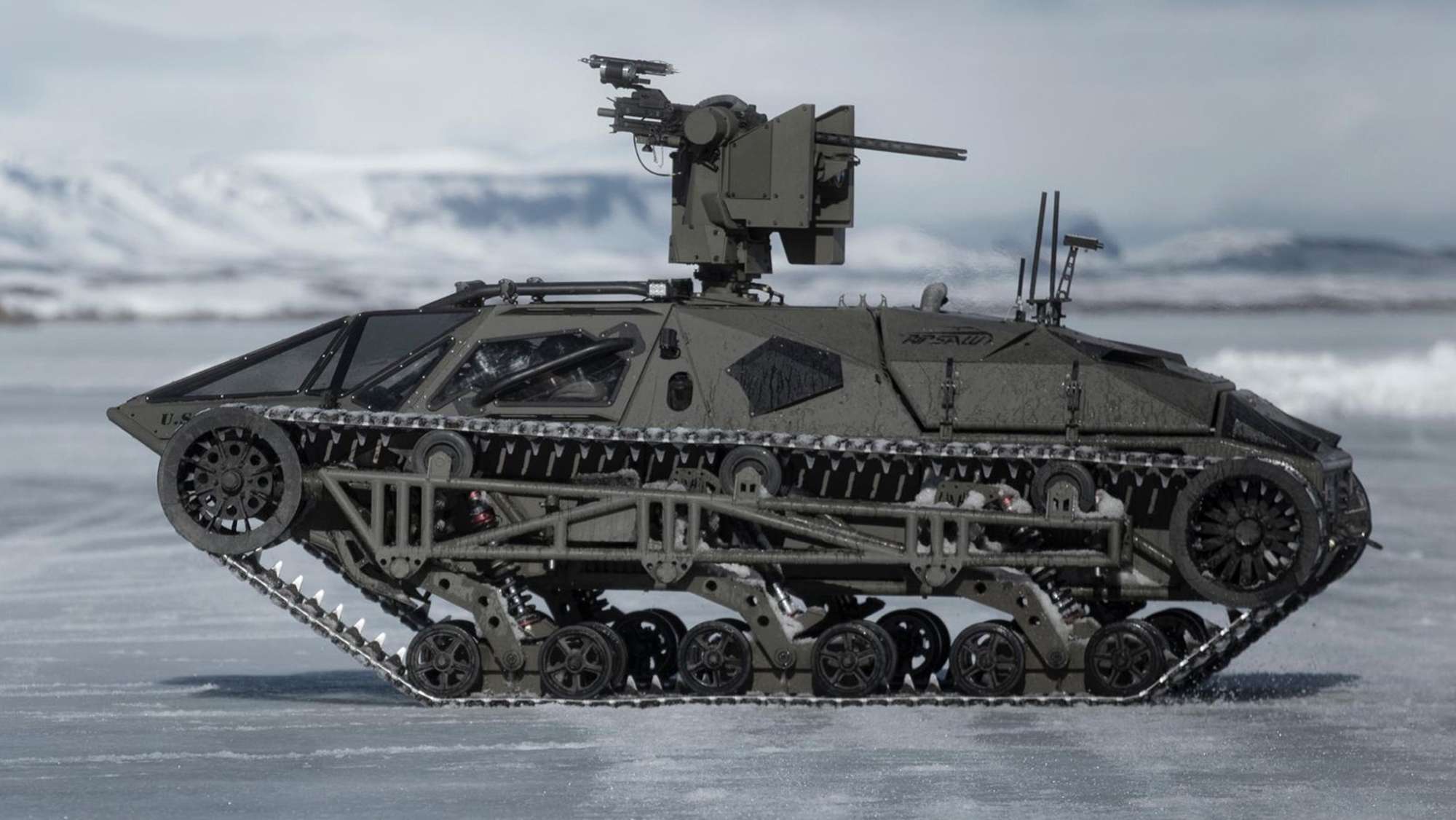 2016
2016
In 2016 the infamous RIPSAW SSR1 and SSR2 series are born. Both are the most extreme and terrain dominant RIPSAWs invented to date. These series of RIPSAW are in a league of their own, quickly becoming some of the most sought after vehicles in the world, with speeds capable of over 100 mph and proven to be ruthless in their ability to conquer the toughest of terrains.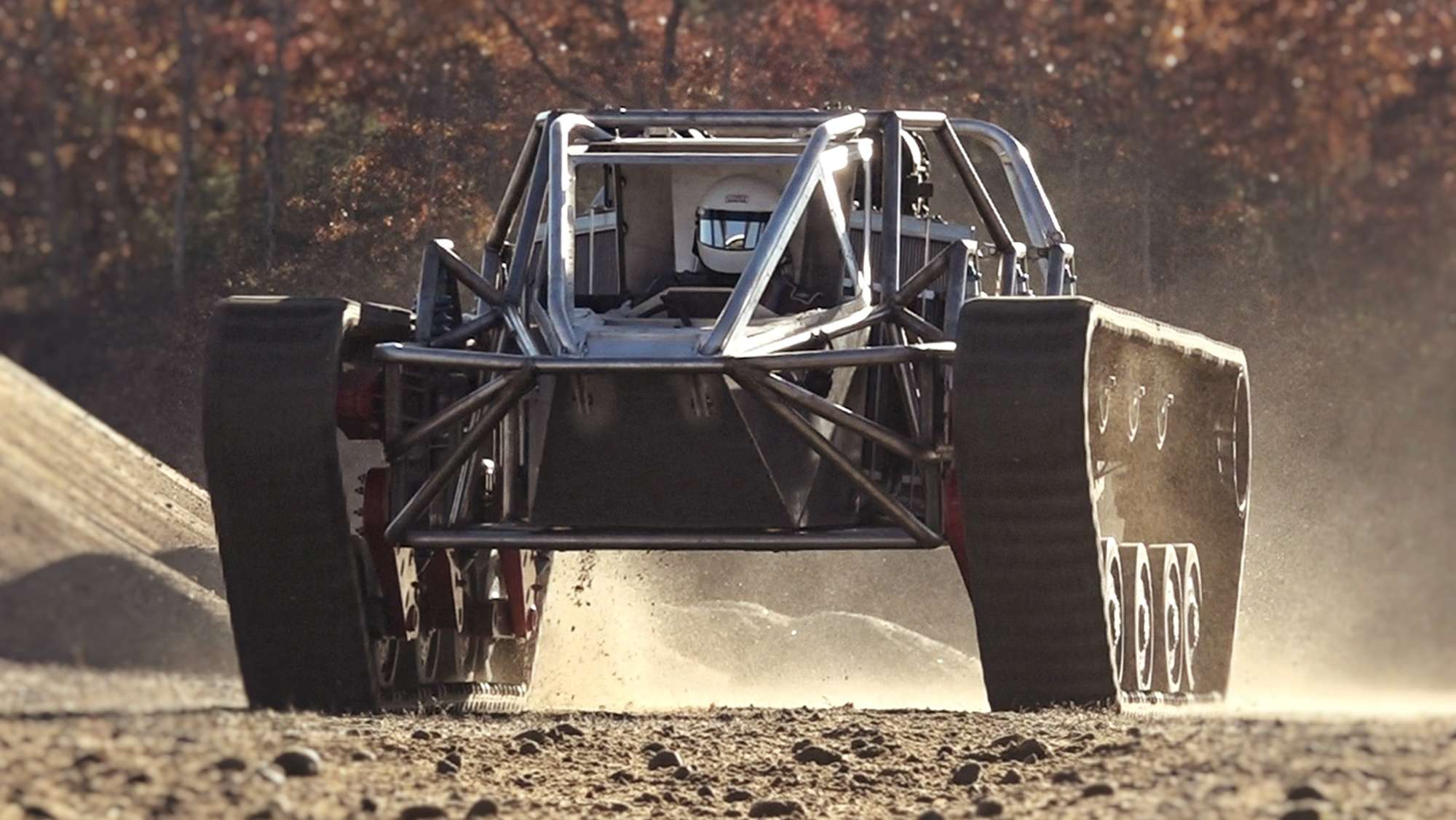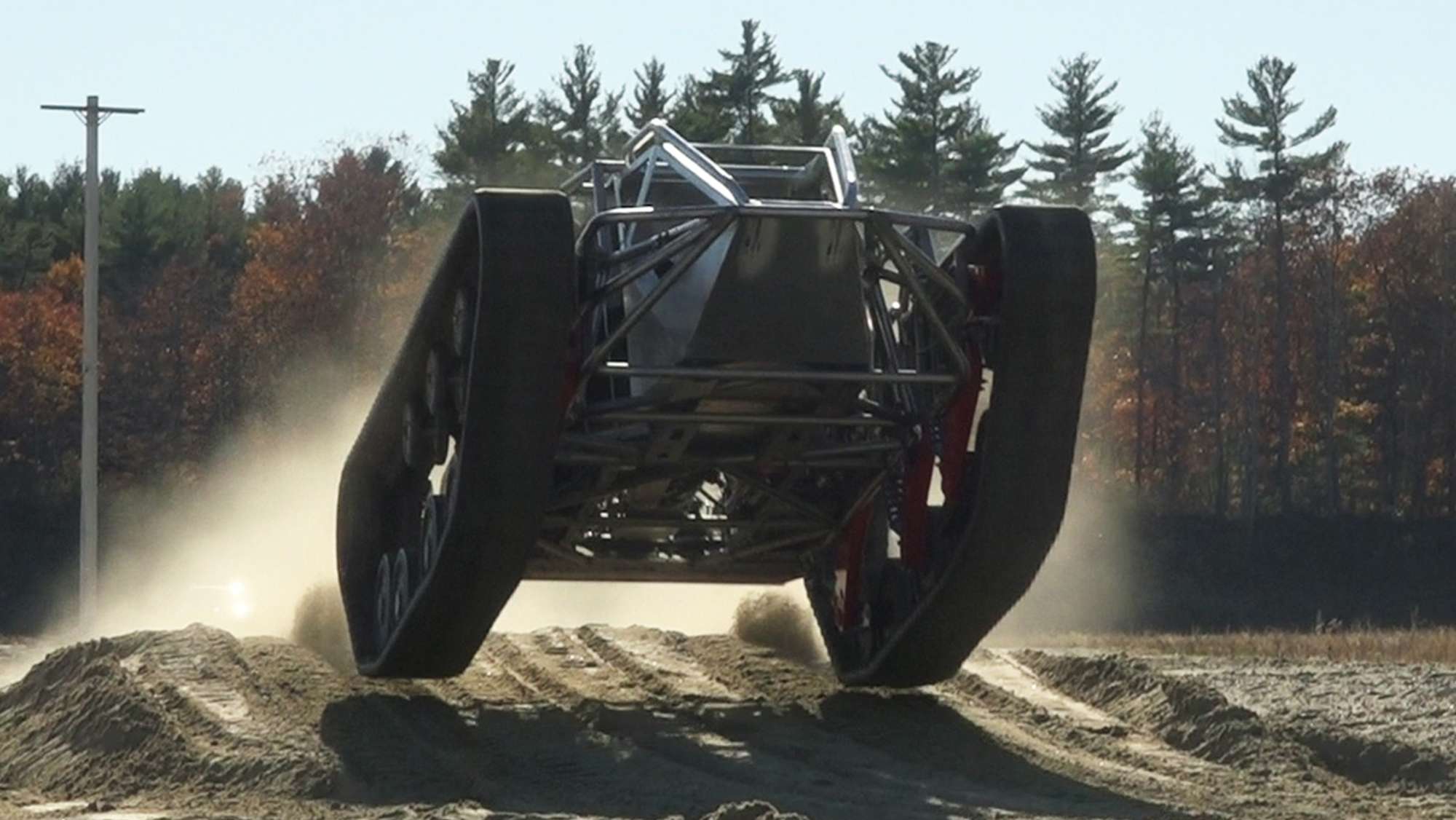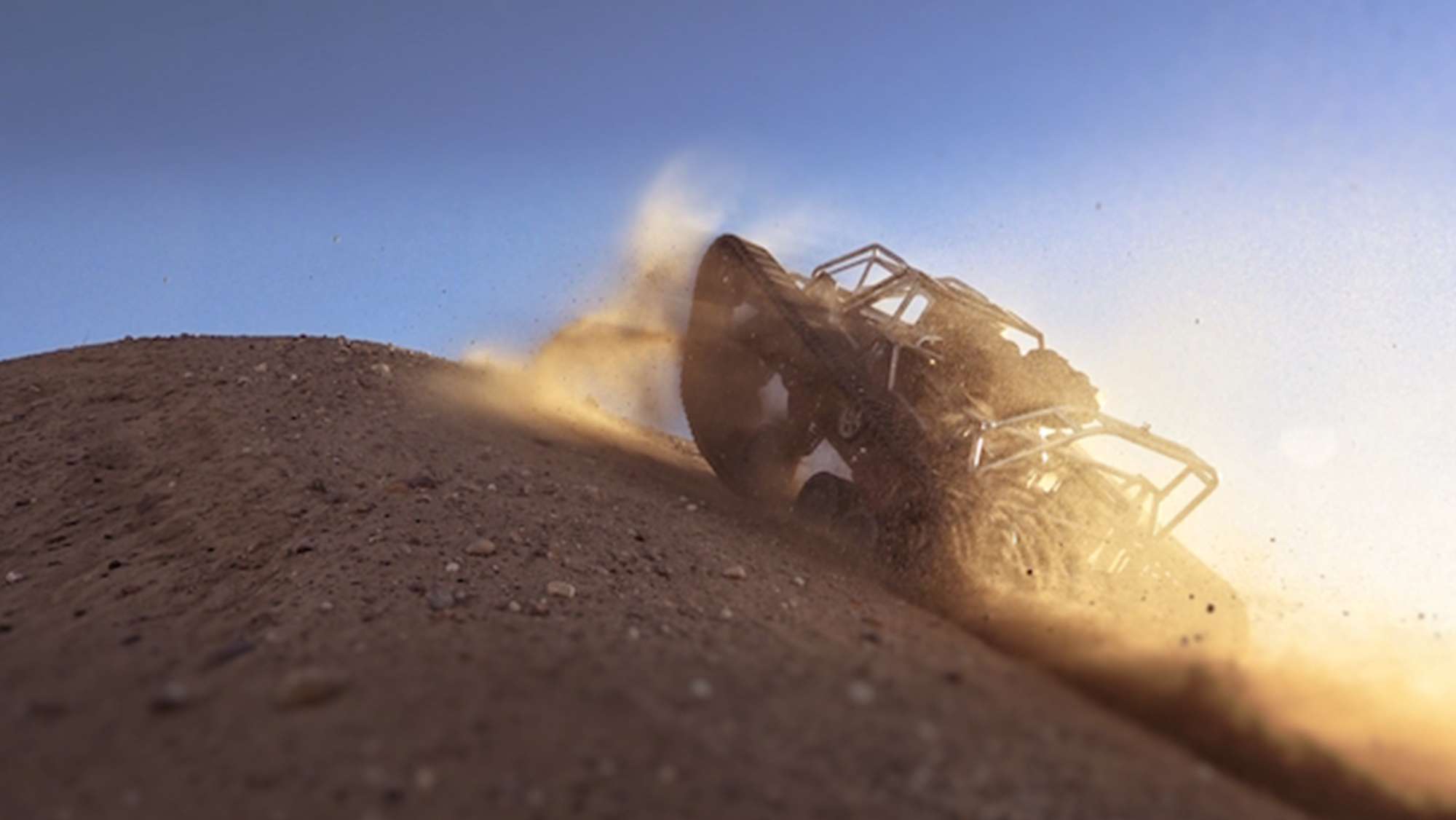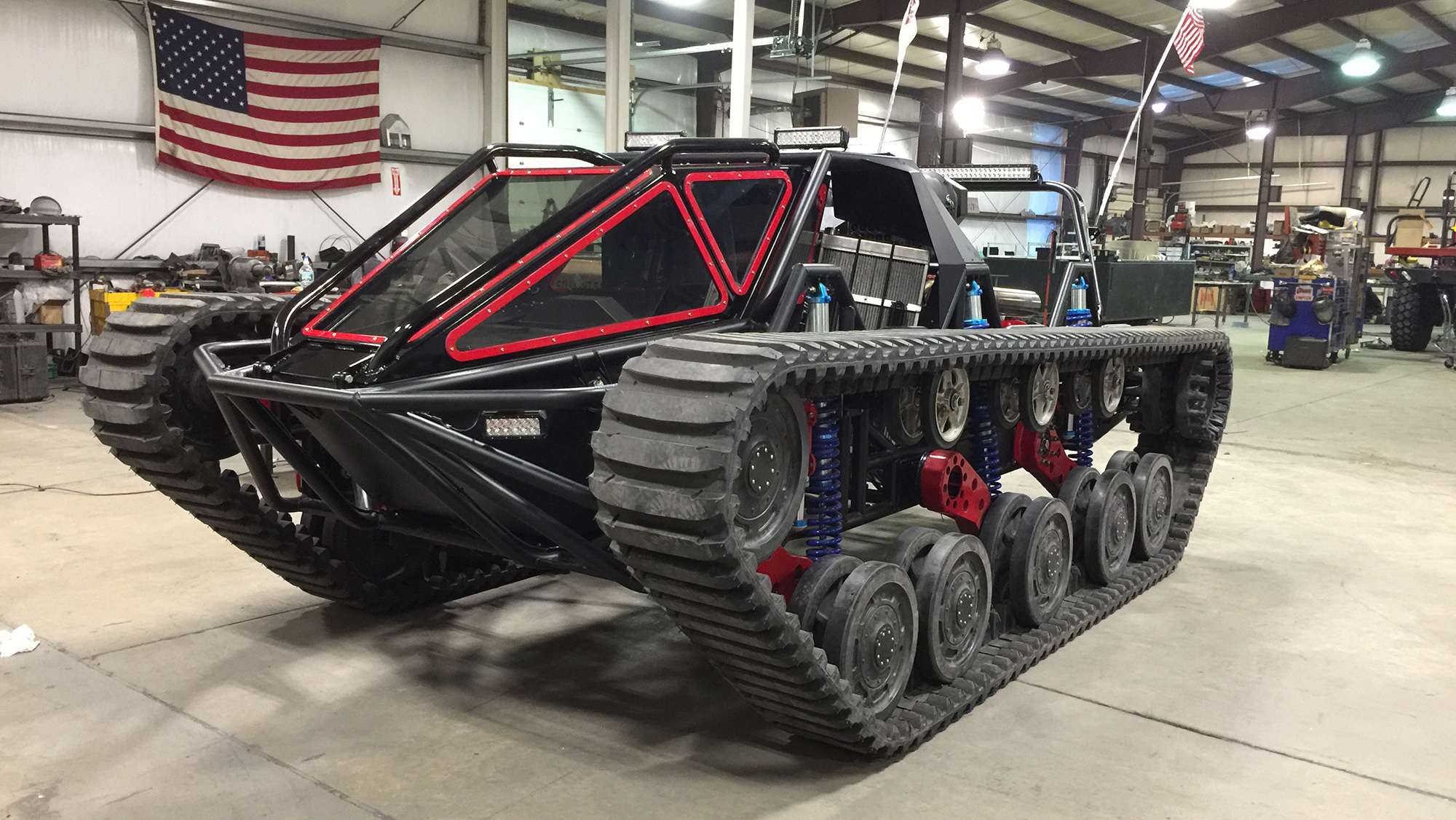 2017
2017
In 2017 "Fast and Furious 8: Fate of the Furious" breaks a new box office record. This film debuts the RIPSAW series. Additionally in 2017, Howe & Howe is the subject of several Fox News stories, the most recent of which highlights the new RS1-T2 Thermite firefighting robot. Howe & Howe inventions are featured on the Grand Premiere Tour TV Show and on an episode of Jay Leno's Garage.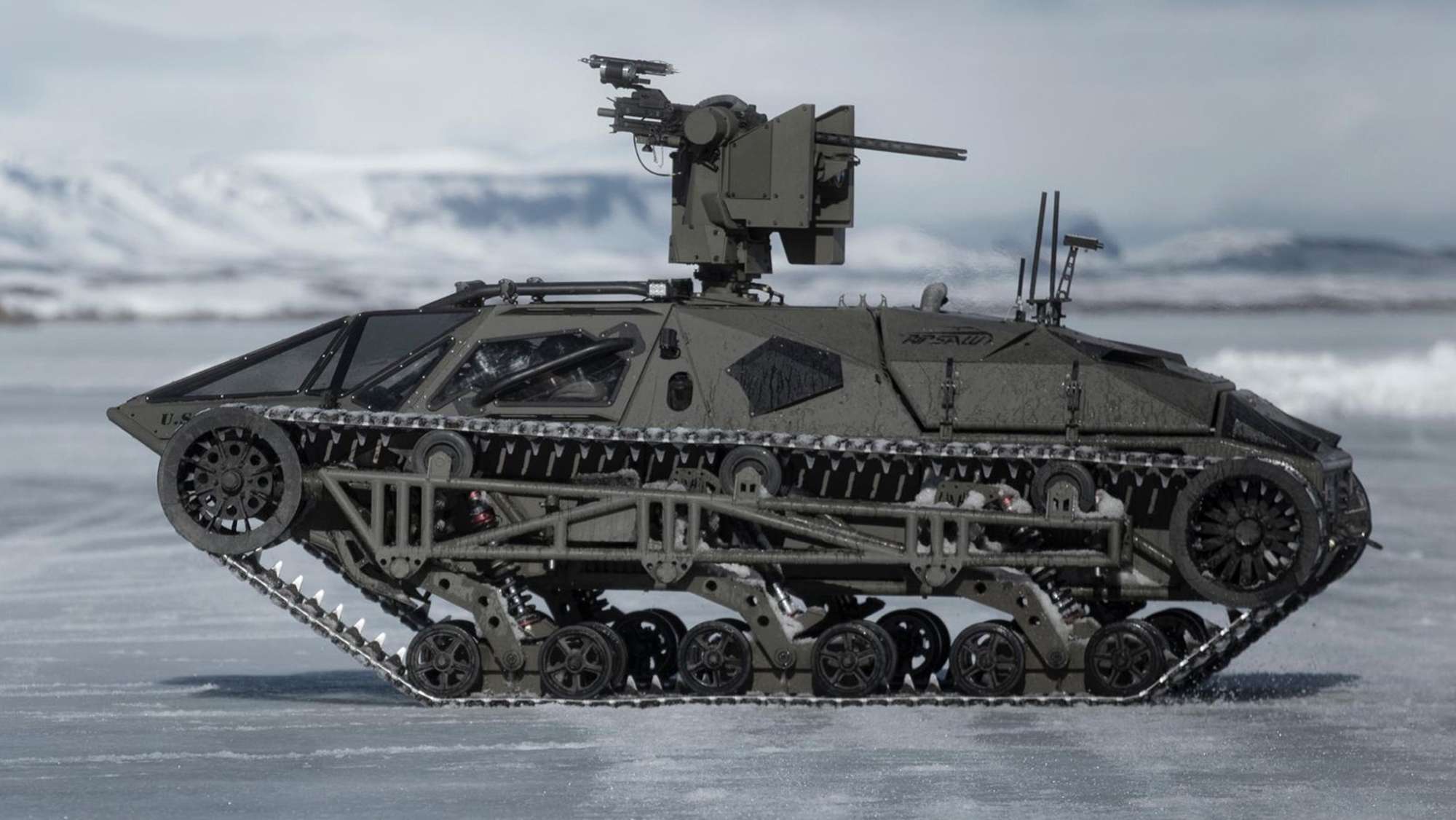 2018
2018
At the end of 2018, Textron Systems finalizes the acquisition of Howe & Howe of Waterboro, Maine. With this acquisition, Textron Systems' newly combined portfolio positions the company as a global leader in autonomy across the air, sea and land domains.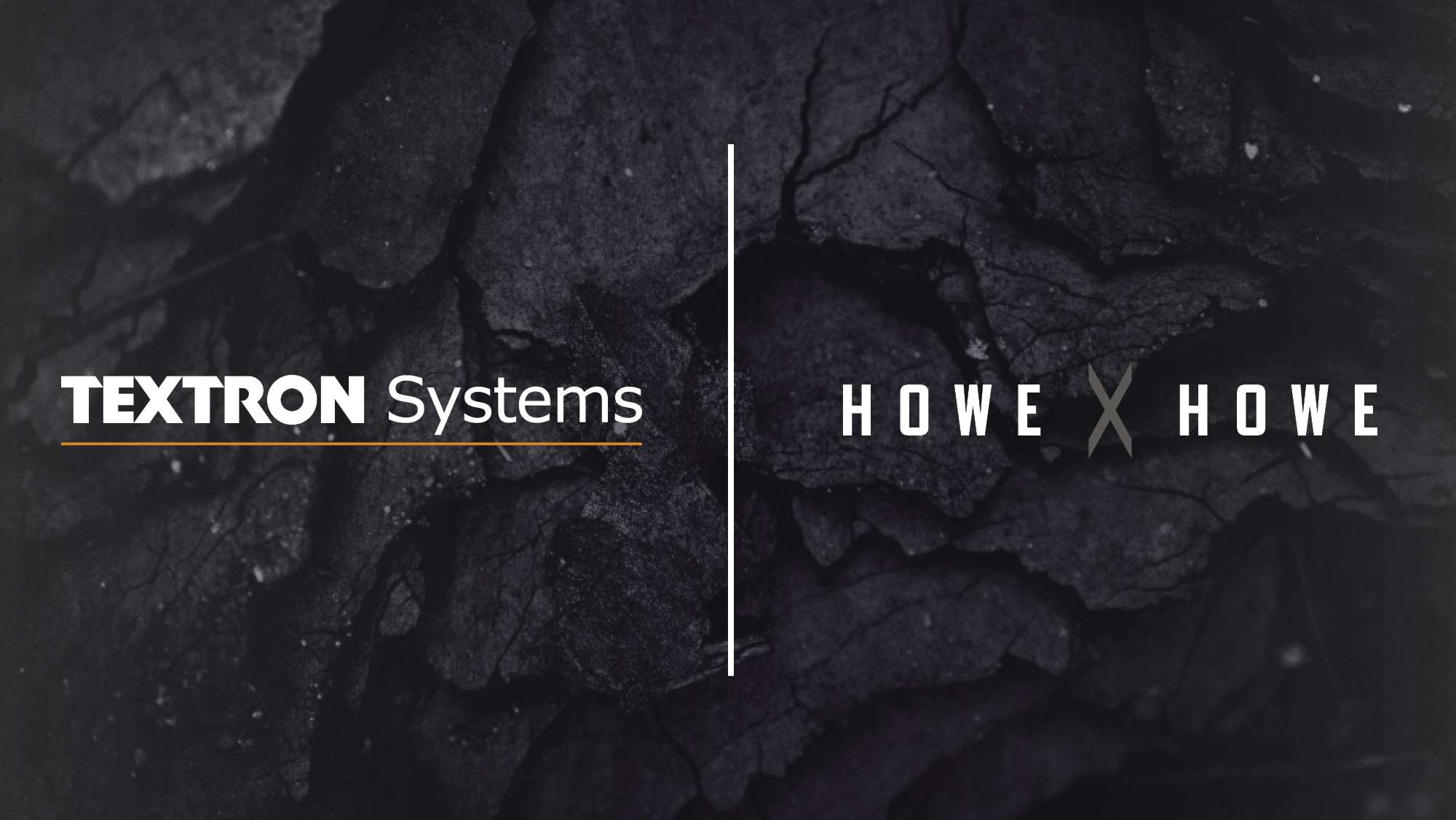 2019
2019
Textron Systems, Howe & Howe and FLIR Systems, Inc. debuts the RIPSAW® M5 during the 2019 AUSA Annual Meeting. As the TEAM RIPSAW offering for the U.S. Army's modernization efforts, RIPSAW M5 delivers aggressive mobility and modularity for multiple missions. This combination, along with teammates having decades of proven robotics and unmanned systems experience, results in a low-risk, ready-now solution.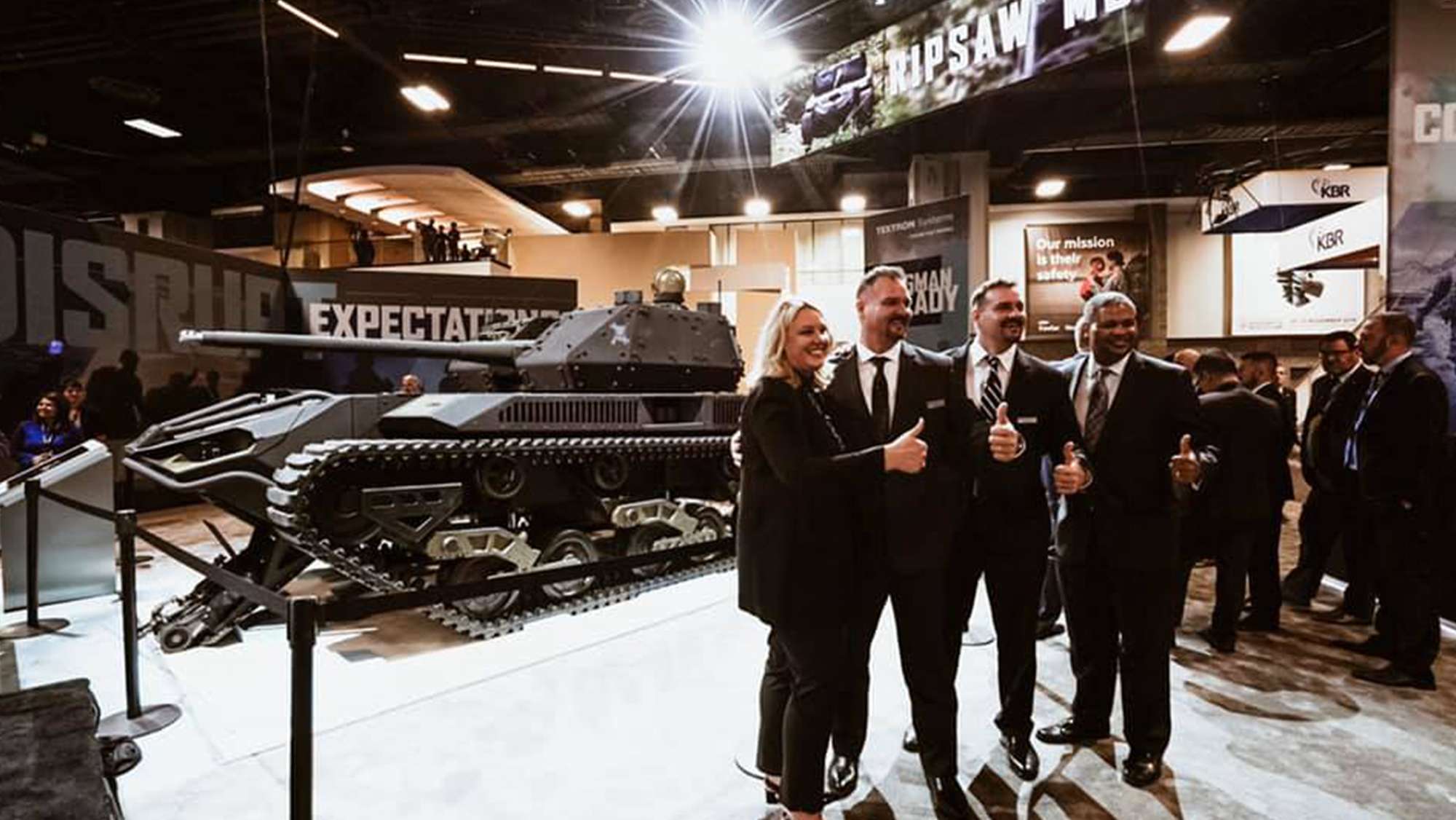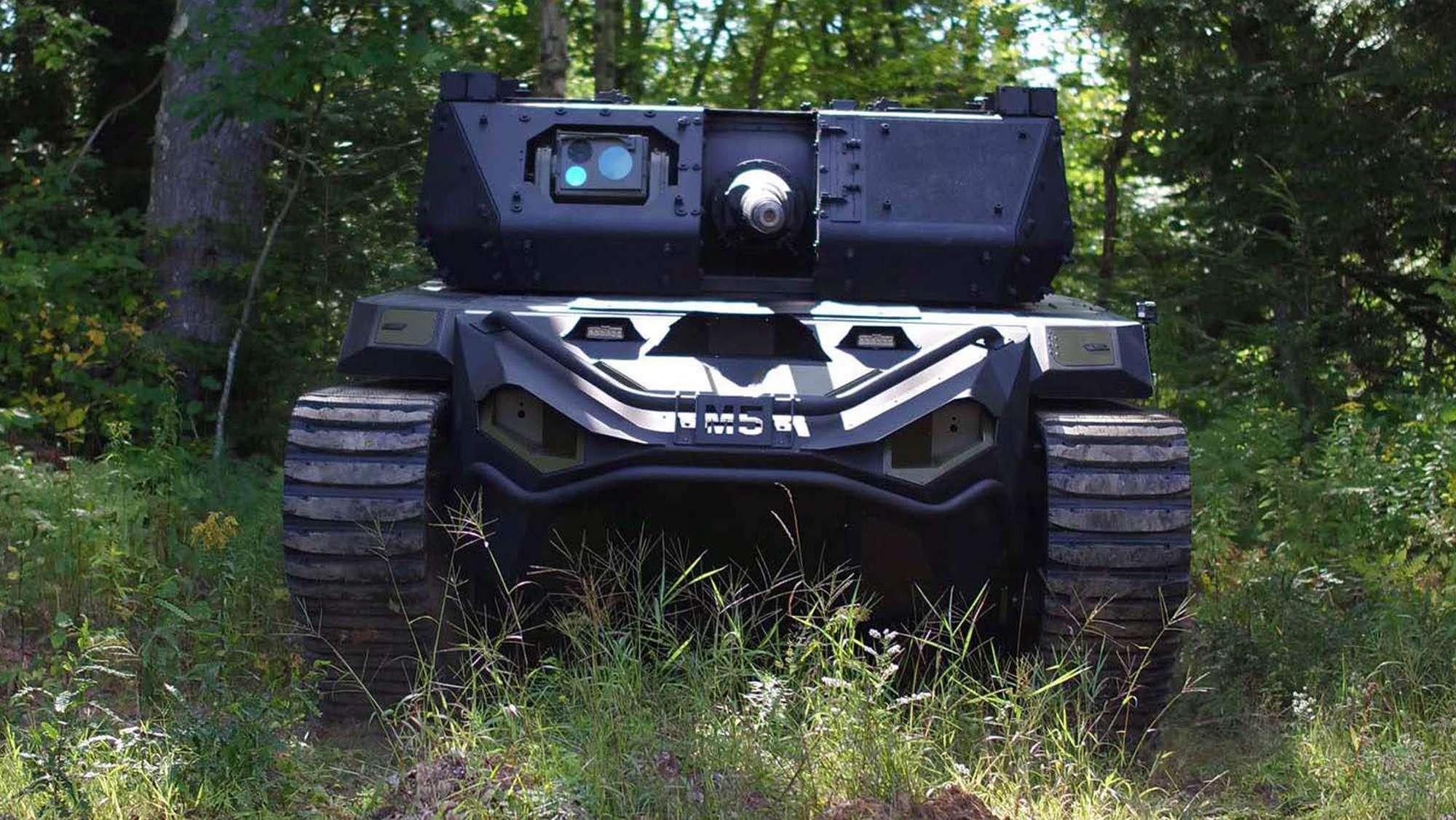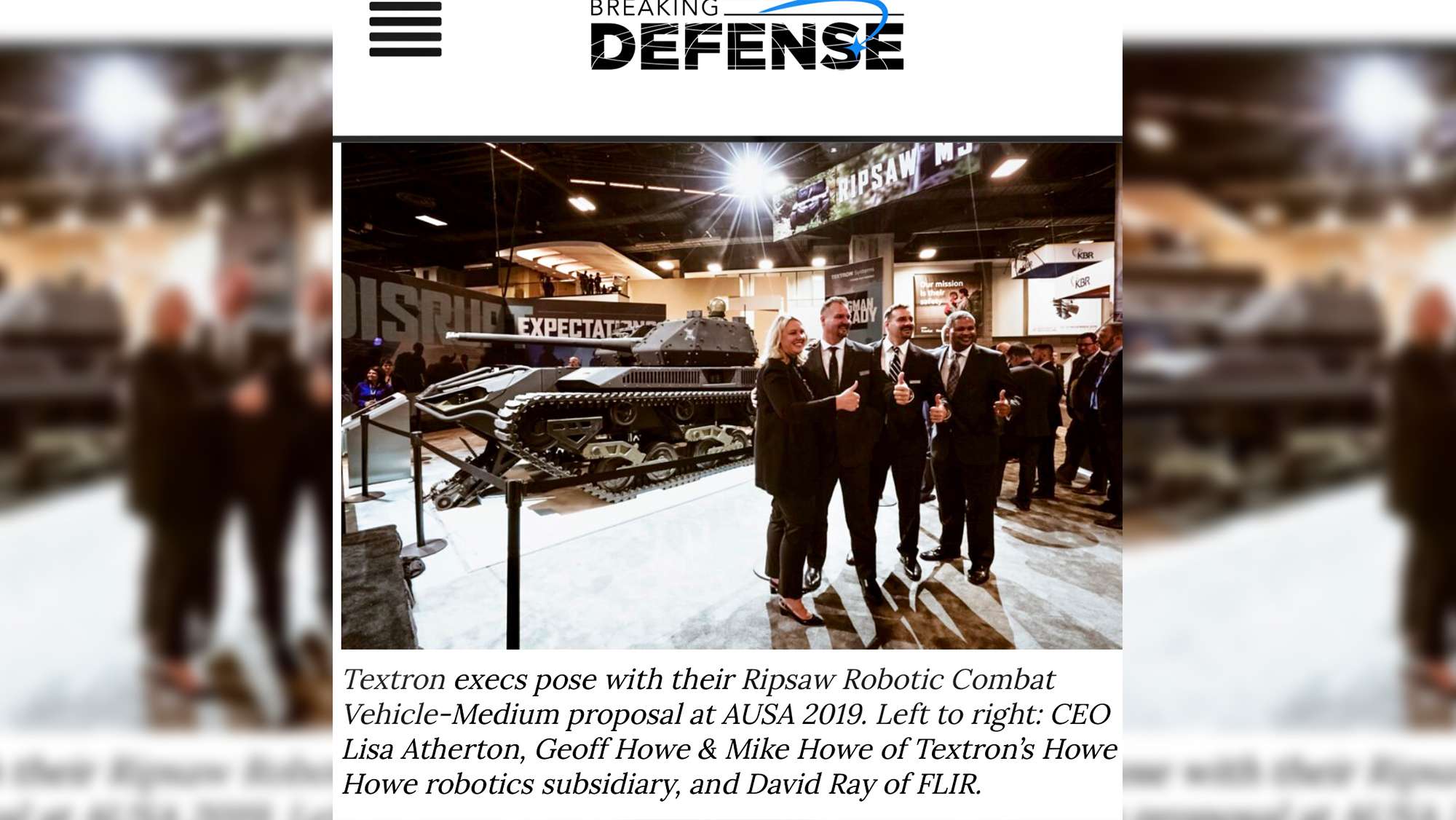 2020
2020
In 2020, H&H announces the first domestic sale and delivery of the Thermite RS3 to the Los Angeles City Fire Department (LAFD) through authorized sales distributor Municipal Emergency Services (MES) Fire. This acquisition by the LAFD marks the first commercial sale of a robotic firefighting vehicle in the country. The LAFD intends to use the Thermite robotic firefighter for a variety of applications, such as active assistance with firefighting, training, and more. The Thermite robotic firefighter's unmatched capability set make it a strong partner for fire departments everywhere. Today, Geoff and Mike continue to reach out to the community by hosting Open Houses for local schools and vocational programs, as well as events and activities for their Outdoors Again organization. The Big Dog is one of the most capable off-road trucks on the market and sets the standards for all-terrain, multi-use firetrucks. The Thermite RS2-T1 is one of the most durable and dependable firefighting robots on the market, providing firefighters and first responders with immediate eyes inside the fire, as well the ability to safely attack industrial, chemical and HAZMAT fires from their core. The RS1-T3 robot provides safety and inside access on containing and defeating fires of any magnitude.