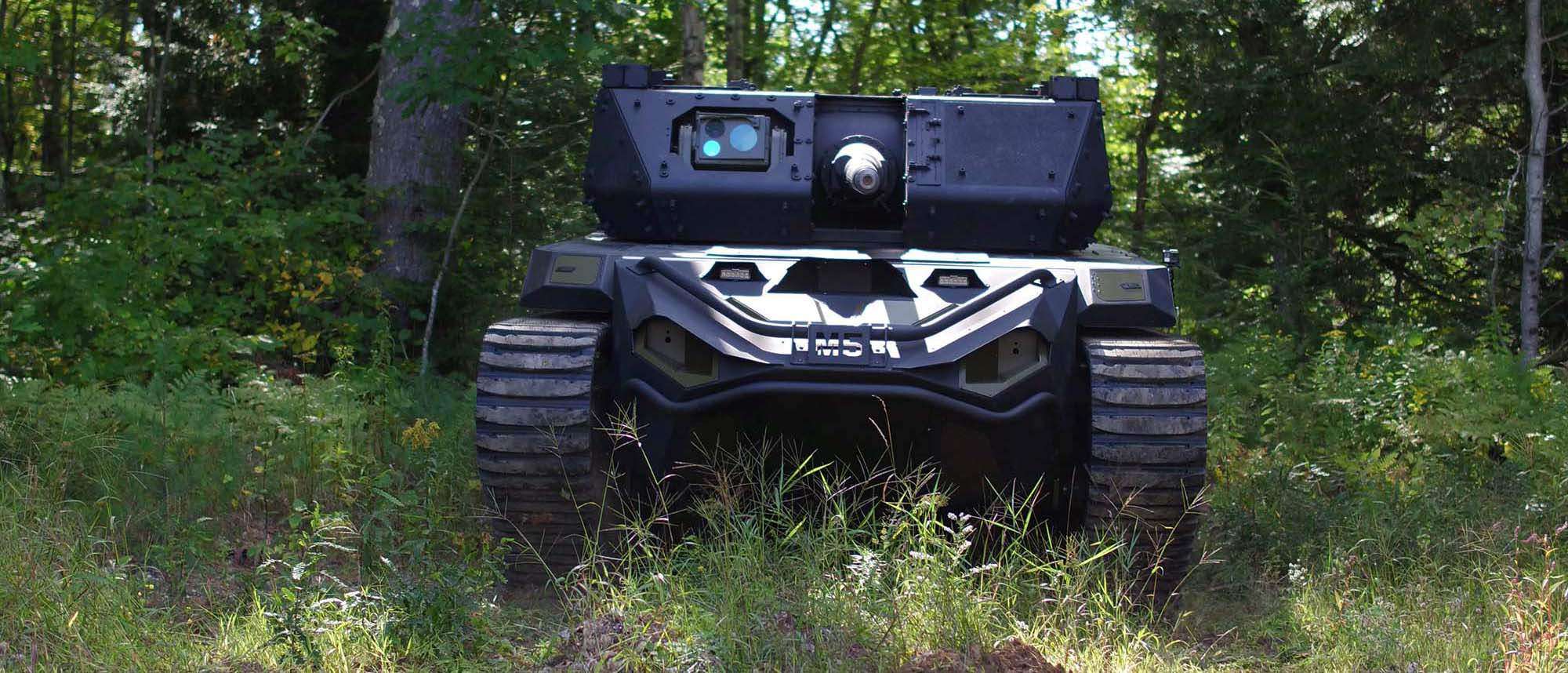 Howe & Howe, Textron Systems and FLIR Systems Debut Multi-Mission Ripsaw M5 RCV
2019 AUSA Annual Meeting & Exposition, Washington D.C. (October 14, 2019) – Textron Systems, a business of Textron Inc. (NYSE: TXT), its Howe & Howe subsidiary and FLIR Systems, Inc. today debuted the Ripsaw® M5 during the 2019 AUSA Annual Meeting. As the Team Ripsaw offering for the U.S. Army's Robotic Combat Vehicle (RCV) program, Ripsaw M5 delivers aggressive mobility and modularity for multiple missions. This combination, along with teammates having decades of proven robotics and unmanned systems experience, results in a low-risk, ready-now solution.
Based on Howe & Howe's deep knowledge of purpose-built ground vehicles, Team Ripsaw has designed the M5 for high speed and superior mobility in the most rugged terrains and weather. This fifth-generation robotic combat vehicle platform combines scalable armor, suspension and drive options to meet a variety of mission demands. The team has invested up-front in key technologies to demonstrate that the Ripsaw M5 is mission ready to provide the U.S. Army confident execution with uncompromising technology, including real-time situational awareness systems, remote weapons stations and terrain engagement systems.
"My brother Geoff and I founded Howe & Howe with the single, clear objective of safeguarding our nation's warfighters," notes Senior Vice President Mike Howe. "This drive led us to develop the fastest tracked vehicle in the world, and we've applied that same spirit and purity of innovation to the Ripsaw M5."
The support of FLIR Systems bridges the gap for the Ripsaw M5 system to quickly achieve the Army's objective of unmanned operations, alongside Textron Systems' longstanding autonomy and armored vehicle design, production, training and logistics experience.
"Incorporating our world-class intelligent sensors and unmanned assets on the Ripsaw M5 will provide a leap-ahead technology solution for the Army," said David Ray, President of FLIR Systems' Government and Defense business unit. "From cameras delivering 360-degree situational awareness to surveillance gimbals, tethered drones and ground robots, we'll give our troops a tactical edge by keeping them on technology's edge."
"Bringing together Howe & Howe, Textron Systems and FLIR Systems really represents a dream team," says President & CEO Lisa Atherton of Textron Systems. "We formed this team based on our shared focus to serve this customer with disruptive ideas and proven experience, and we are dedicated to meeting and exceeding their requirements through the RCV program. We are confident that the Ripsaw M5 is their ideal wingman, and that we can get these vehicles out into the field where they need them – quickly."
About FLIR Systems, Inc.
Founded in 1978, FLIR Systems is a world-leading industrial technology company focused on intelligent sensing solutions for defense, industrial, and commercial applications. FLIR Systems' vision is to be "The World's Sixth Sense," creating technologies to help professionals make more informed decisions that save lives and livelihoods. For more information, please visit www.flir.com and follow @flir.
About Textron Systems
Textron Systems is a world leader in unmanned air, surface and land products, services and support for aerospace and defense customers. Harnessing agility and a broad base of expertise, Textron Systems' innovative businesses design, manufacture, field and support comprehensive solutions that expand customer capabilities and deliver value. For more information, visit www.textronsystems.com.
About Textron Inc.
Textron Inc. is a multi-industry company that leverages its global network of aircraft, defense, industrial and finance businesses to provide customers with innovative solutions and services. Textron is known around the world for its powerful brands such as Bell, Cessna, Beechcraft, Hawker, Jacobsen, Kautex, Lycoming, E-Z-GO, Arctic Cat, Textron Systems, and TRU Simulation + Training. For more information, visit www.textron.com.
Certain statements in this press release are forward-looking statements which may project revenues or describe strategies, goals, outlook or other non-historical matters; these statements speak only as of the date on which they are made, and we undertake no obligation to update or revise any forward-looking statements. These statements are subject to known and unknown risks, uncertainties, and other factors that may cause our actual results to differ materially from those expressed or implied by such forward-looking statements, including, but not limited to, the efficacy of research and development investments to develop new products or unanticipated expenses in connection with the launching of significant new products or programs; our ability to keep pace with our competitors in the introduction of new products and upgrades with features and technologies desired by our customers; and risks related to U.S. Government contracts as described in our filings with the Securities and Exchange Commission.
MEDIA CONTACT
Textron Systems/Howe & Howe
Public Relations Team
978-657-2020
publicrelations@textronsystems.com
FLIR Systems, Inc.
Joe Ailinger, Jr.
978-769-9339
joe.ailinger@flir.com