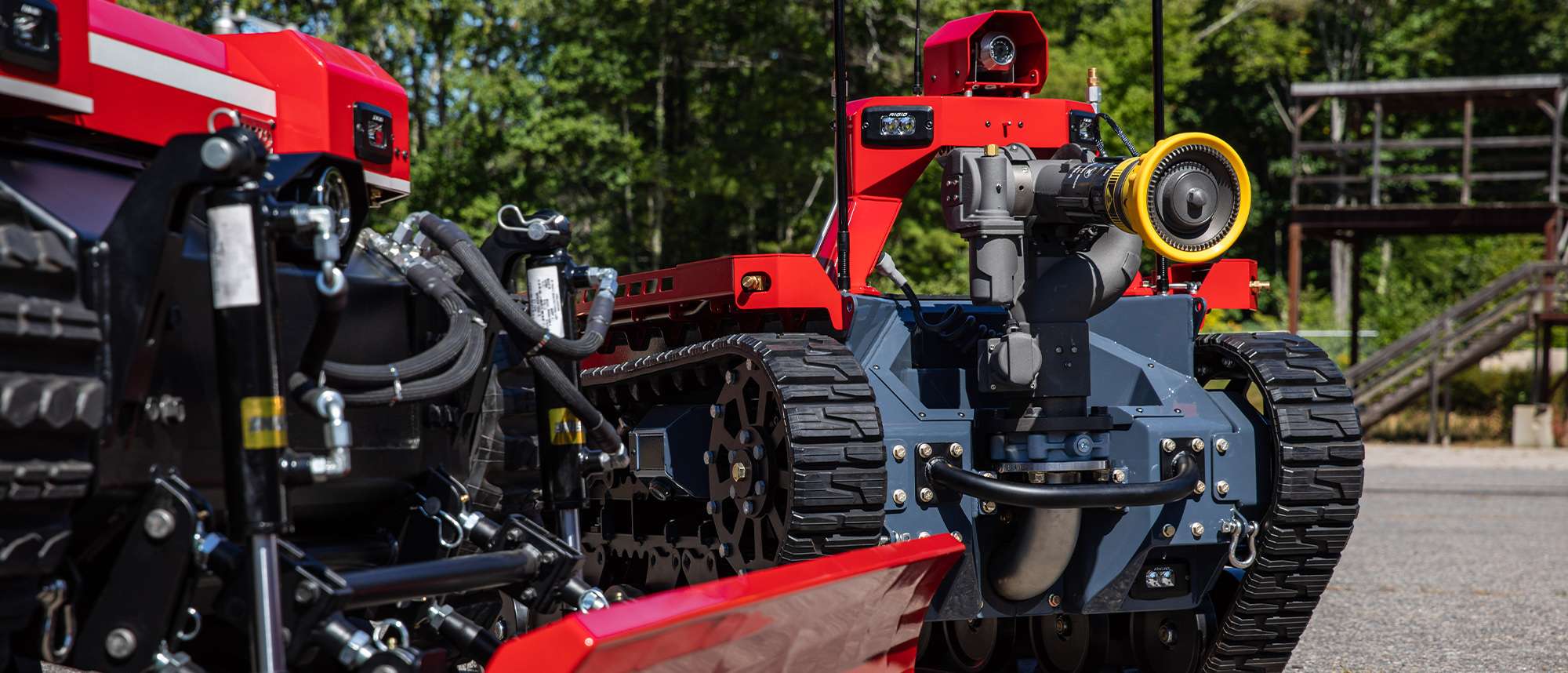 Howe & Howe to Introduce Thermite® EV1 Firefighting Robot at FDIC International
EV2 ROBOT TO BE DISPLAYED AT "FIRE RESCUE STATION OF THE FUTURE"
WATERBORO, Maine, April 17, 2023
Howe & Howe, Inc., a subsidiary of Textron Systems Corporation, a Textron Inc. (NYSE:TXT) company, announced today that the company will introduce its Thermite® EV1 firefighting robot at this year's FDIC International. The company will be located in booth 5162 at the prestigious fire service event, which is scheduled for April 24-29 in Indianapolis, Indiana.
The latest evolution in Howe & Howe's trusted family of electric firefighting robots, the Thermite EV1 safely and effectively targets fires with a modular design that can accommodate its multi-position, 700 gallon-per-minute nozzle and additional available attachments. Powered with the latest in high-capacity battery technology, the EV1 can move farther into high-temperature, oxygen-deprived environments, unlike equipment with traditional, fuel-consuming engines that have oxygen requirements for the drivetrain. This will be the fourth vehicle in the Thermite family, the only firefighting robots built, made, and sold right here in the United States.
"Our EV1 is a powerful force multiplier for our heroes in fire response," said Senior Vice President and company cofounder Mike Howe. "We built our Thermite firefighting robots to extend our first responders' sight, reach and other senses, delivering them real-time situational awareness in high-risk zones of operation. These vehicles will redefine how we protect and support our emergency responders."
With a lighter weight and smaller footprint than other robots in the Thermite family, the EV1 provides firefighters a standoff range of more than 300 meters and a run time of up to 20 hours. Its industrial-grade, belted rubber tracks are designed to traverse the toughest terrains.
Also, on display at the 2023 FDIC International is the Thermite EV2 firefighting robot, which will be showcased as part of the show's "Fire Rescue Station of the Future" exhibit. The immersive experience is billed by show organizers as an "architect-designed, full-scale fire station replica." Howe & Howe's EV2 offers a larger footprint and incorporates day/night and thermal sensors.
To learn more about the Thermite family of firefighting robots, visit FDIC International booth 5162 or www.howeandhowe.com.
ABOUT HOWE & HOWE
Howe & Howe is a leader in advanced robotic land vehicles, built and proven for extreme conditions. With a portfolio that includes leading advanced robotic land vehicles, such as the
RIPSAW® M5 and the Thermite robotic firefighter, the company is ready and able to support customers wherever they need it most.
ABOUT TEXTRON SYSTEMS
Textron Systems is a world leader in unmanned air, surface and land products, services and support founded on the combined expertise in our family of brands that includes Textron Systems, Howe & Howe, Lycoming, and ATAC. We harness the unlimited power of teamwork to solve incredible problems across seven specialized domains: air, land, sea, propulsion, weapon systems, electronic systems and test, training & simulation. From product development and manufacturing to training, operations and support, we integrate and offer ingenious and advanced solutions to support defense, aerospace, and other customer missions. For more information, visit www.textronsystems.com.
ABOUT TEXTRON INC.
Textron Inc. is a multi-industry company that leverages its global network of aircraft, defense, industrial and finance businesses to provide customers with innovative solutions and services. Textron is known around the world for its powerful brands such as Bell, Cessna, Beechcraft, Pipistrel, Jacobsen, Kautex, Lycoming, E-Z-GO, Arctic Cat, and Textron Systems. For more information, visit: www.textron.com.
Certain statements in this press release are forward-looking statements which may project revenues or describe strategies, goals, outlook or other non-historical matters; these statements speak only as of the date on which they are made, and we undertake no obligation to update or revise any forward-looking statements. These statements are subject to known and unknown risks, uncertainties, and other factors that may cause our actual results to differ materially from those expressed or implied by such forward-looking statements.
MEDIA CONTACTS
Textron Systems
Public Relations Team
978-657-2020