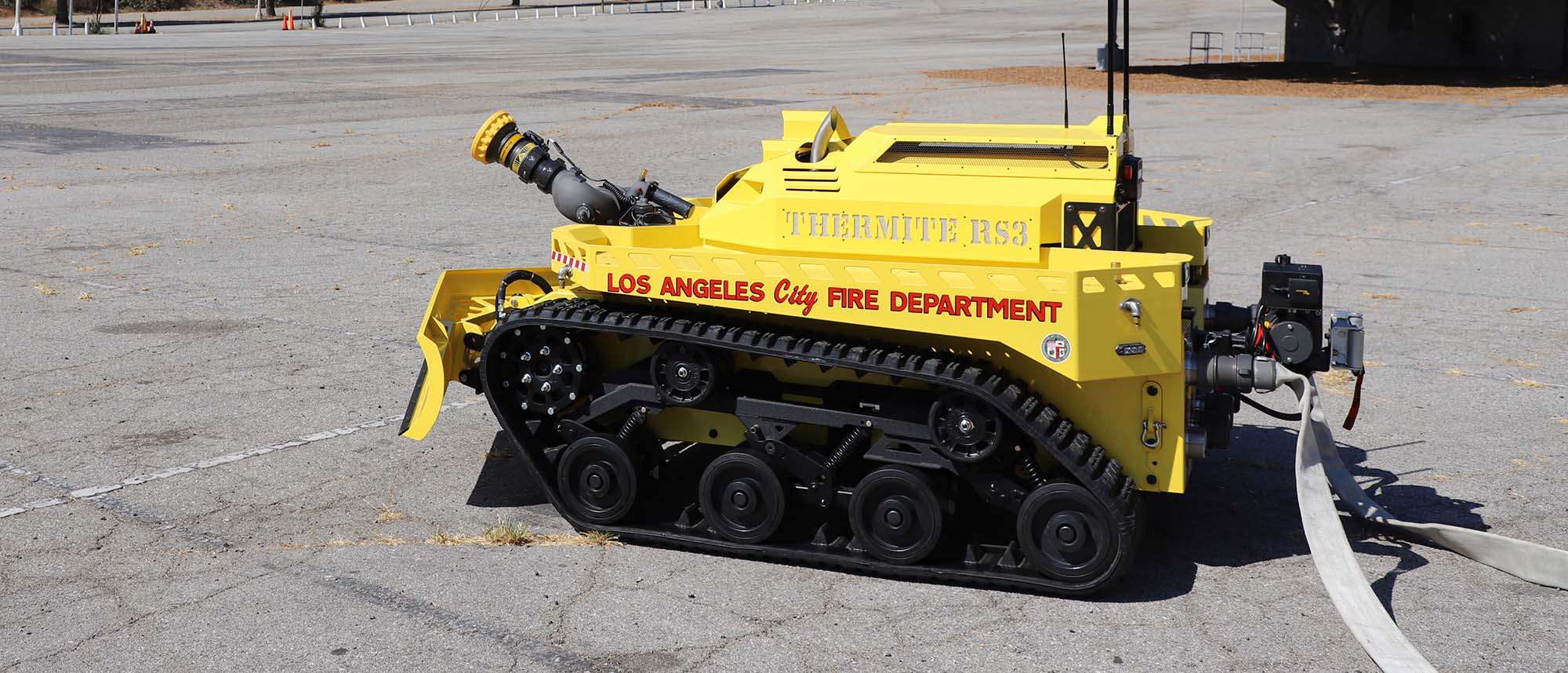 Howe & Howe Completes First Domestic Sale of the Thermite™ RS3 To the Los Angeles City fire Department
Sale Represents First Commercial Robotic Firefighting Vehicle in the U.S.
WATERBORO, ME. - Howe & Howe Inc., a subsidiary of Textron Systems Corporation, a Textron Inc. (NYSE: TXT) company, announced today the first domestic sale and delivery of its robotic firefighter, the Thermite RS3, to the Los Angeles City Fire Department (LAFD) through authorized sales distributor Municipal Emergency Services (MES) Fire. This acquisition by the LAFD marks the first commercial sale of a robotic firefighting vehicle in the country.
"This is our first step in bringing these life-saving capabilities to firefighters across the United States," stated Geoff Howe, Senior Vice President of Howe & Howe. "Our robotic firefighter, Thermite, empowers first responders in life-threatening emergencies by keeping them farther out of harm's way."
The Thermite robotic firefighter allows first responders to remain at a greater standoff distance from danger, using the robot as an extension of their own senses and capabilities to accomplish their mission from a safer distance.
Welcoming its multi-mission capability, the LAFD intends to use the Thermite robotic firefighter for a variety of applications, such as active assistance with firefighting, training and more.
"The Los Angeles City Fire Department is excited and honored to be the recipient of the first Thermite RS3 in North America," said LAFD Chief Ralph Terrazas. "This innovative technology will be an excellent addition to our Urban Search and Rescue toolkit, as well as being able to fight fire in situations that won't put our firefighters in unnecessary danger."
The Thermite RS3 is a super-high volume, low center of gravity, wide-chassis firefighting robot that harnesses the ability to navigate rugged terrain and withstand exposure to extreme elements. With a modular design and wider stance that accommodates additional equipment including a plow assembly, the RS3 has the power to push vehicles from its path and pull up to 8,000 pounds with its winch. The Thermite robotic firefighter's unmatched capability set make it a strong partner for fire departments everywhere.
ABOUT HOWE & HOWE
Howe & Howe is a leader in advanced robotic land vehicles, built and proven for extreme conditions. With a portfolio that includes leading advanced robotic land vehicles, such as the RIPSAW® M5 and the Thermite robotic firefighter, the company is ready and able to support customers wherever they need it most.
About Textron Systems
Textron Systems is a world leader in unmanned air, surface and land products, services and support for aerospace and defense customers. Harnessing agility and a broad base of expertise, Textron Systems' innovative businesses design, manufacture, field and support comprehensive solutions that expand customer capabilities and deliver value. For more information, visit www.textronsystems.com.
About Textron Inc.
Textron Inc. is a multi-industry company that leverages its global network of aircraft, defense, industrial and finance businesses to provide customers with innovative solutions and services. Textron is known around the world for its powerful brands such as Bell, Cessna, Beechcraft, Hawker, Jacobsen, Kautex, Lycoming, E-Z-GO, Arctic Cat, Textron Systems, and TRU Simulation + Training. For more information, visit www.textron.com.
Certain statements in this press release are forward-looking statements which may project revenues or describe strategies, goals, outlook or other non-historical matters; these statements speak only as of the date on which they are made, and we undertake no obligation to update or revise any forward-looking statements. These statements are subject to known and unknown risks, uncertainties, and other factors that may cause our actual results to differ materially from those expressed or implied by such forward-looking statements, including, but not limited to, the efficacy of research and development investments to develop new products or unanticipated expenses in connection with the launching of significant new products or programs; and our ability to keep pace with our competitors in the introduction of new products and upgrades with features and technologies desired by our customers.
MEDIA CONTACT
Textron Systems
Public Relations Team
978-657-2020
publicrelations@textronsystems.com