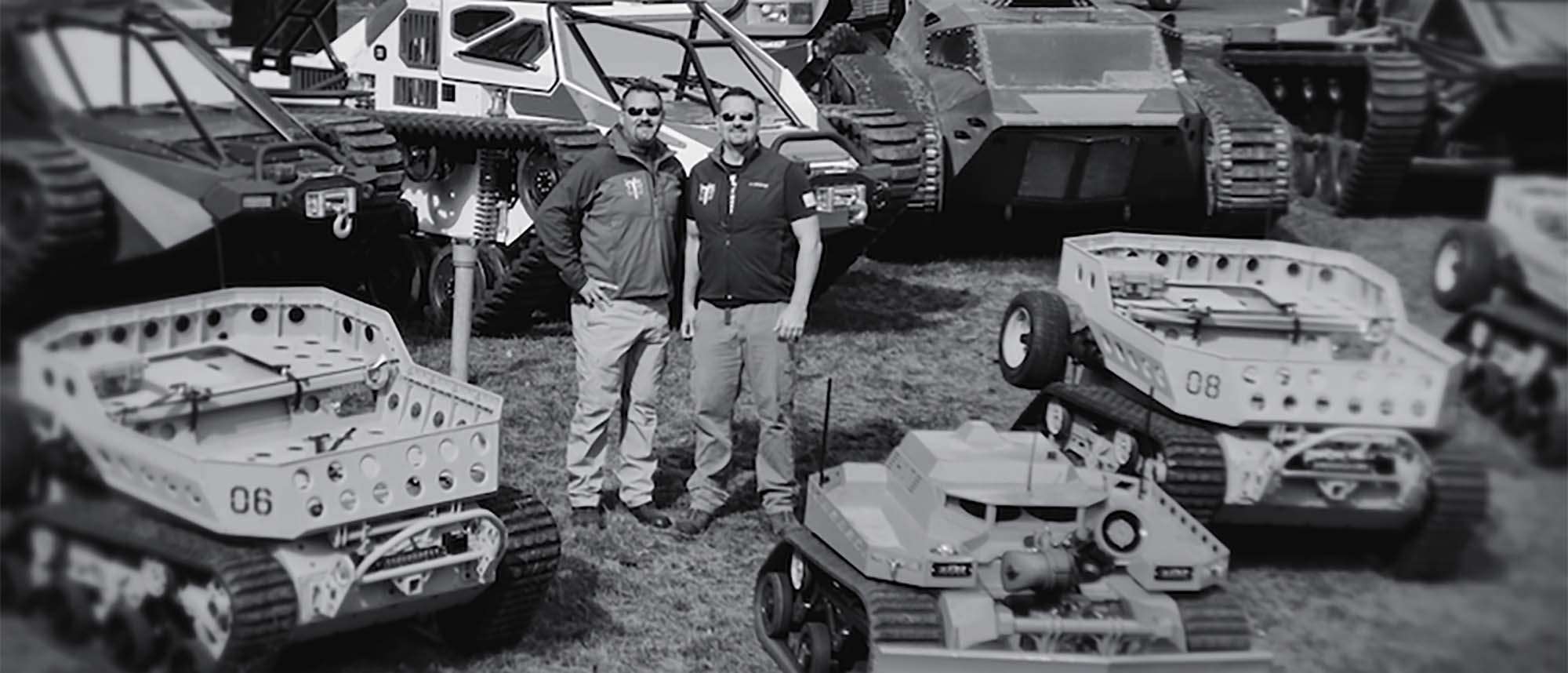 Building a Company on Honor, Dignity and Respect
As Howe & Howe Technologies joins Textron Systems, get to know the brothers who started it all. The entire Howe & Howe team is excited to join its mission-centric mindset with Textron Systems, working Together Stronger.
Geoff and Mike Howe describe their younger selves as the kids in the back of the science lab who were experimenting and getting into mischief. From taking apart toaster ovens and bicycles to creating robotic arms, the twin brothers from Maine have always been passionate about innovation. Mike recalled, "When people told us, 'Your ideas are outside the box,' we responded by saying, 'What are you taking about? We didn't know there was one.'" Geoff chimed in, "It's just who we are."
The brothers went through college and held jobs that ranged from performing together in a rock band to working as a stock broker and a manager for the city of Portsmouth. Through the various jobs, one thing always remained constant: their love of innovation. "Parallel to our jobs, we were always building and inventing things. Every Friday night, we'd put our money together to see what we could afford to build," Mike explained.
In 2005, the brothers decided to enter the DARPA Grand Challenge, where they competed against prestigious universities to create an autonomous vehicle that would race across the desert. Geoff reflected, "We formed a team with volunteers and had the only tracked vehicle, a retrofitted Ripsaw®. We had no financial backing for the challenge, so I had to say to my wife, 'Honey, I know we just bought a house, but we need 50,000 dollars to compete. I'm going to remortgage the house.'" The team ended up placing 39th out of 141 teams.
They were amongst three teams selected to exhibit at the D.C. Auto Show, but only had enough funds for a hotel and transportation to the show. They decided they'd figure out how to get home once they got there. Geoff stated, "The military interface for the Ripsaw stemmed from that show. If we hadn't taken that risk and attended, who knows where we would be today." With help from family, they found a way home.
One of the first rules the Howes established when launching their business was "do what you say you're going to do." Geoff explained, "We have great rapport with our clients because we do everything we can to provide them the best value with honor, dignity and respect." This mindset is exemplified through their support and advocacy for the nonprofit organization, Outdoors Again. "Give what you can, and it will come back to you," Geoff continued.
The brothers jokingly describe working with your twin as "the best of times and the worst of times." The journey has been well worth it to the Howes. "Our mom told us that if you do what you're passionate about, your work won't feel like a job. I truly feel that if you're passionate about your job and good at what you do, you will never work another day in your life," Mike reflected.
Textron Systems welcomes the Howe & Howe Technologies team!