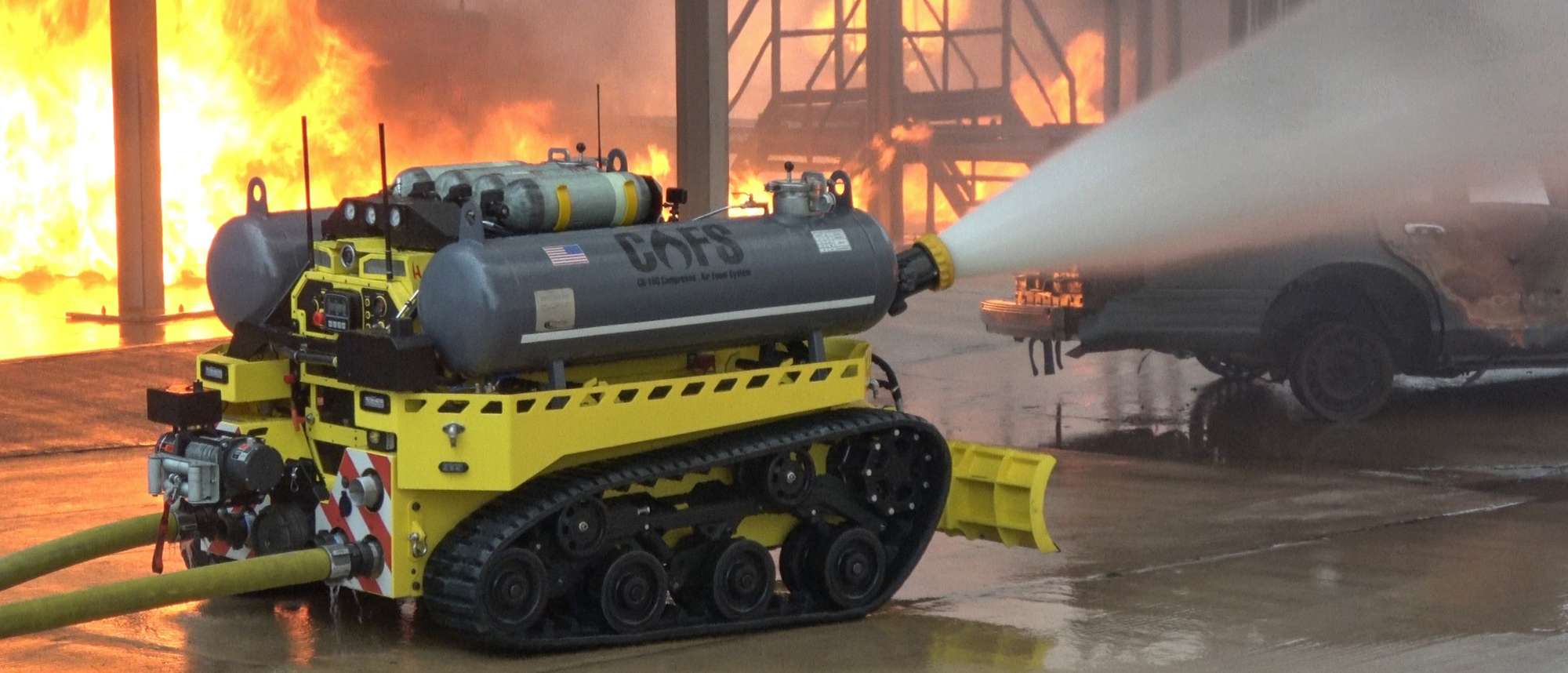 Howe & Howe Keeps Firefighters Safe Through use of Thermite® Firefighting Robots
Waterboro, Maine
July 14, 2023
Every day, our firefighters courageously put themselves in the line of duty to ensure the safety of our communities, all while risking their own lives. The work that they do is incredibly dangerous and can oftentimes lead to injury or fatalities.
Roughly 60,000 firefighters were injured in the line of duty in the United States in 2021. Seventy of those injuries were later deemed fatal according to Statista.
We created the Thermite® firefighting robot with the safety of our first responders in mind. Our Thermite family of products was designed to mitigate these life-threatening situations and provide fire suppression, situational awareness and intelligence gathering capabilities to first responders.
Currently being used in the field to combat severe structure fires, our Thermite technology offers firefighters the capabilities needed to ensure they get home safe after a day of extinguishing flames. We compiled a list of some of the most common Thermite use cases below:
Surveillance
All our firefighting robots are standardly equipped with front and back facing cameras to help firefighters survey an area without entering a structure. This gives your boots on the ground clear data that can be used to determine whether it is safe to enter a structure, preventing costly injuries that occur on a regular basis.
Load carrying/pushing.
Thermite robots can tow up to 8,000 pounds of weight so you don't have to worry about dragging hose lines all over a fire operation anymore. Not only that, but the same capacity is possible with the robot's ability to push debris out of the way. Our Thermite RS3 can push a full-sized SUV with ease. Imagine never having to worry about pushing and pulling debris out of the way again. It's possible with this tool.
Rescue
We designed our robots to be able to carry civilians/other firefighters out of dangerous situations without putting another firefighter in harms way. Each robot was designed with rescue operations in mind to ensure the safety of every firefighter on your staff.
Defensive Posturing
Have you ever fought a fire in a defensive posture for days on end? A tool like Thermite® can make your operation a bit easier. If the robot has fuel or a charge, it will go for hours on end, throwing water on a fire without agitating it. This allows firefighters out in the field to attack other jobs, leading to higher degree of success without injury.
Want to know the full capabilities of this firefighting tool? Click here for a full spec sheet on our firefighting robots and the different capabilities they offer.